The Pastor's Wife
Pastor's Wife for sale, half off!
My husband chose a poem by Khalil Gibran to be read at our wedding.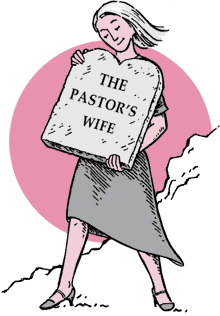 Sure, he's a pastor, but he's also a modern man. The poem was about how we were like trees not growing in each other's shadows.
At the time I felt like an equal tree growing next to the Pastor.
My tree has taken some hits since then. With a chainsaw.
I've somehow done myself a disservice and become one of those pastors' wives who are not as important as their husbands. He gets the fame and glory. Me? I'm just the wind beneath his wings, in the perfect position to get pooped on by the bird flying in front of me.
The Pastor and I have recently decided to do some financial planning. We met with an "expert" and this is what I learned: the Pastor is worth one amount, and I am worth exactly half what the Pastor is worth.
Learning something like this can cause a state of anarchy in our relationship. When did we go from two trees standing next to each other in the forest to one tree robbing the root system and towering over the other? When did his tree get to be bigger and better than mine?
I've not quite figured it all out yet, but one of the reasons for my reduced value may be my love of television.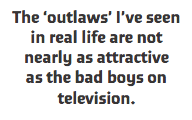 Of course I don't watch real television. I live with the anti-television, minimalistic minister. Maybe if I were the bigger tree in my house I'd have an actual television. I watch things on my computer. No one has taken that away from me. Yet.
Lately I've been obsessed with a show about a gun-and-drug- running, murderous motorcycle gang known for living in a state of anarchy.
It's an escape from the stress of life in the Parsonage. The appeal could be the greasy, unkempt, tattooed, violent characters who are much different from my clean, bald, tattoo-free Pastor.
While running errands in my 12-year-old van, I've found myself stopped at traffic signals, staring a little too long at anyone on a motorcycle next to me – no matter how unfortunate-looking or big-gutted that person might be. The "outlaws" I've seen in real life are not nearly as attractive as the bad boys on television.
Like most things in life, motorcycle gangs aren't really that different from churches. The gangs probably lean toward a more Old Testament form of justice. I didn't have to watch very many episodes before I could totally see myself getting on board with their lack of forgiveness and need for retribution. Plus they dress all in black (very slimming) and drink and get as many tattoos as they want.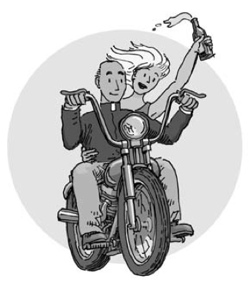 There are two types of women in motorcycle gangs: the "sweet butts" (girls who get passed around) and the "old ladies" who finally get an outlaw to settle down. It's not unlike being a Pastor's Wife, except in a motorcycle club the members of the lesser sex get to fetch beer instead of Hebrew Bibles and get to wear black leather boots all the time, hang around porn stars and hit people. Another bonus: in the motorcycle club I'm pretty sure you'd never have to worry about anyone trying to trap you in a conversation to see if you know all the biblical plagues. I find the plagues far less interesting than how to smuggle things or hide a body. What knowledge is more likely to come in handy?
Here's my takeaway from the motorcycle outlaws of television: Jesus may release you from shackles that bind you, but so does complete and total anarchism, without any need to wait for a second coming. When you are an anarchist, you are truly liberated from all things. Your life becomes an open road. No rules.
Maybe I've watched too much. Gone to the dark side. Maybe I need to be paying more attention to what my husband might be saying in his sermons.
If I haven't already gone to the dark side, someday I'll probably snap. Someday I'll have had one too many branches removed, one too many conversations about plagues, and I'll be just a twig of my former glorious tree-self. Television won't be enough. I'll hop out of the van at one of those stoplights and my sweet butt will land on the back of someone's Harley. I'll ride into the sunset for parts unknown, unchurched and unclean, not the wind beneath anyone's wings. The hot guy in front of me can get all the bugs in his face.
And good luck to the Pastor finding someone to replace me at half off.
Carrie S. Martin lives with the Pastor and her three children in the Bible Belt.