The Pastor's Wife
The house with the golden windows
There's an old children's tale about a little boy admiring a house across the lake with beautiful golden windows.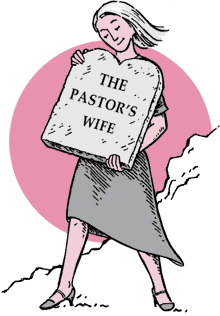 One day, he went to find the house on the other side of the lake, and he could not. He asked a little girl if she knew where the house was, and she did – she pointed back to where the boy had come from. It turned out he lived in the house with the golden windows.
I'm always looking for the house with the golden windows. I imagine in that house there is no overlooked housework, step-parenting does not exist and it is very easy to take one of those holiday photo cards where everyone in the family looks perfect and coordinated.
I routinely feed an older homeless guy, Eddie. Before you begin to think that I'm completely altruistic, let me explain to you that I met this gentleman when I was going to buy my overpriced Starbucks coffee. Eddie is a smart guy. He goes to Starbucks and stays close to the door, acting as a doorman. When people are buying overpriced coffee, it's easy to tap into their generosity (guilt). Eddie won't ever take any money from me, but whenever I bring him food (I make him whatever I make my family), he eats it immediately and is more complimentary and thankful than any of my children or my present husband. Perhaps that is why I like him.
A few weeks ago when I greeted Eddie and handed him a breakfast sandwich, he slipped me a note, sneaking it to me the way a wealthy businessman might slip the maître d' a tip to get a good table.
The envelope was addressed to me as "mademoiselle." I flattered myself into thinking it must be a love note. Or a thank-you note. No, it was a handwritten telegram to requisition co-pilot equipment for an aeronautical mission, including a question about whether I had "copied" the message.
At first, I thought it was written in code and it meant something else. How was I going to decipher the message? Google Translate perhaps? But then I faced the fact that Eddie falls into the population of homeless that is likely "crazy." Then I started thinking about the apparatus Eddie had fashioned out of cardboard and sometimes wears on his head. Yes, Eddie might be mentally disabled.
I became worried after the note. The next time I saw Eddie, how was I supposed to respond if he asked me about his message? My husband's pastoral counsel was simple: just say, "Yes, I received your message."
In my mind, I'd like to think it wasn't crazy talk. I think Eddie thinks he and I are some sort of military spies, maybe during World War II. I envisioned it all to be very Casablanca. He is slipping me top-secret messages and he wants me to go on a mission with him as his co-pilot. I don't know what the mission is, but I'm just going to have to trust him.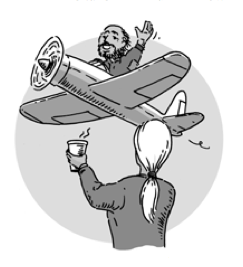 Illustration: Darryl Brown
I don't know if Eddie is a Christian or not. I'm not one of those people who uses the opportunity to feed the homeless in order to educate them about Jesus. Besides, Jesus was kind of a homeless guy. Eddie probably knows more about him than I do. Are there homeless people in heaven? And when we all go off to glory, if Eddie is not homeless and mentally ill, and his disability is made whole, are physical disabilities made whole too? You have to wonder how God defines a disability. Would people who are physically normal and have Jesus in their heart on earth, but are assholes, go to heaven and no longer be assholes? Most importantly, will I be able to eat all the baked goods I want and never gain any weight?
But I'm jealous of Eddie. Everything he owns is with him, and his load is light. He doesn't seem miserable. In fact, I would describe him as happy, content and friendly: three words that I'm unable to use to describe myself. In fact, Eddie hugs me every time I see him, something I don't even get from my own parents.
He's not burdened by a collection of ceramic frogs or two microwaves or 150 pairs of shoes. He already knows he's living in the house with the golden windows, and he gets to go on secret airplane trips. I'm the real crazy one because I have no excuse, yet I'm trudging across the way, still looking for the house with the golden windows with my $5 coffee in hand. Maybe instead I should just trust Eddie, jump into the back of his imaginary airplane, fly across the lake and have him explain Jesus to me.
Carrie S. Martin lives with the Pastor and her three children in the Bible Belt.