Following the spirit of Occupy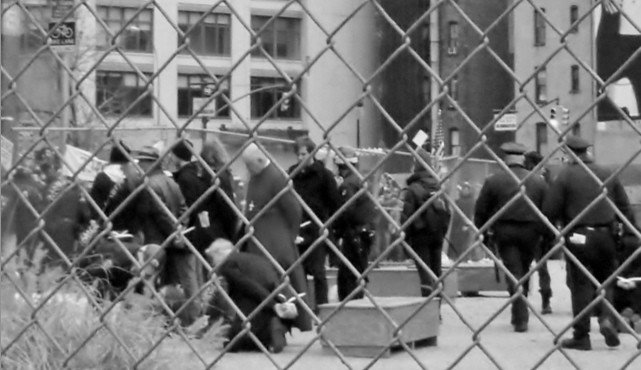 Shortly after activists took over Zuccotti Park (renamed "Liberty Park") on September 17, progressive faith-based organizations like Tikkun, Sojourners and Faith in Public Life began incorporating Occupy language into their fundraising appeals.
Despite self-identification with the movement, leaders from these religious groups remain largely absent from the Occupy Faith circles that coalesced into a collaborative interfaith network and ongoing prophetic witness. Instead, they treated their infrequent trips to OWS camps with the glee of aging hippies attending a Woodstock-themed reunion. I can easily spot these pseudo-activists as they circle the site in search of an opportunity to yell "mic check" and take the stage. Unlike those who actually inhabit the space, these "leaders" fail to understand the need to yield the floor when others want to share their stories.
Trinity Church Wall Street may extend charity by offering up tangible items including meeting space, restrooms and coffee. But this church, which also functions as one of New York City's largest real estate developers, drew the line at allowing OWS to use one of their spaces.
Earl Koopercamp, rector of St. Mary's Episcopal Church, Manhattanville, is a member of Occupy Faith and one of Trinity Church's Transformational Fellows (i.e., a recipient of a study grant for social transformation). He reflects on the church's commitment to transformational justice:
"In providing hospitality and charity, they're not really getting involved with the fundamental justice questions. Listening and even saying 'Occupy Wall Street has the right to its protests' is excellent. But the question is, how do we transform society so the one percent doesn't have all the voice and all the say anymore? Hopefully they can make those transactions peacefully and non-violently so that the 99 percent can live much more secure lives."
Even though Koopercamp, along with retired Episcopal Bishop George Packard and other clergy, got arrested for trying to occupy Trinity-owned Duarte Square, he remains optimistic. "I've seen this transformation take place in some of the people I've least expected. The reception has just been very positive. Some very wealthy people get that something is wrong. This economic system did not fall down from heaven. It is not divinely ordained. We made it, we can remake it."
Chuck Cooper, Executive Director of the Institute for Progressive Spirituality in Gresham, Oregon, observes, "Some clergy who are perpetual religio-political activists seeking personal publicity do not seem to understand that this is a new and creative movement born of a new generation who see through opportunists, religious or otherwise." An organizer of Occupy Catholics adds, "This movement challenges all presumptions to leadership. What we are calling for is not for the leaders to voice their inevitably empty support, but for people in the pews to rise up and take action. That's what Occupy Catholics is about – not just trying to nudge the priests or some such. Occupy is not a party line, it's a thing you do."
Shane Claiborne, a new monastic and a member of The Simple Way community, has responded to the Occupy movement by saying "God loves the 100 percent." When Geez asked Claiborne if supporting the 100 percent softens his support of the 99 percent, he said "the fact that one percent of the world owns almost half the world's stuff is one of the most urgent ethical issues of the day," and the Occupy movement raises many of the same issues Jesus raised. But "God's justice is good for both the rich and the poor," and Claiborne doesn't want to imply that God has abandoned the rich.
As a Christian response to the prophetic call of Occupy, solidarity with the 100 percent is not enough. In the words of Nobel laureate Elie Wiesel, "Neutrality helps the oppressor, never the victim." This is amoment in history that demands table turning and even taking sides. It's time for progressive Christians to choose solidarity with the poor, not for self-promotion but for the sake of justice.
Becky Garrison is the author of Jesus Died for This?, Red and Blue God, Black and Blue Church, and several other books. See her website at beckygarrison.com