(Dis)robe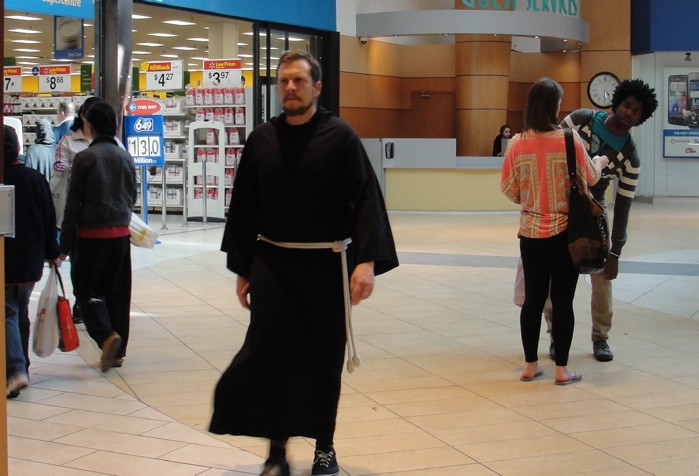 In the fall of 2011, Toronto new monastic Rob Crosby-Shearer donned a brown monk's robe as his only clothing. Geez asked him what it was like.
How did the idea for the "(dis)robe experiment" come about?
The idea has been floating around in my head for a few years. When I was a young Pentecostal kid, I was given some John Michael Talbot albums and there he was, this charismatic friar looking like St. Francis!

Since then, I've been increasingly fascinated with the varieties of religious clothing that I see worn out in the neighbourhood – and what those outward expressions might reflect. Tibetan Buddhist monks, Muslims, Sikhs, Orthodox Jews and others – and then Christian monastics and friars – all of them have ways of expressing their commitment to their faith and community through clothing.
It was after having a chat with an Anglican priest friend of mine about how our clothing should really reflect our theology, justice stance and community values that I actually started to take the idea seriously.
After that happened, I talked with my wife about how she felt about being married to well, uh, a "monk." She was really supportive and actually excited. Nonetheless, the robe had been made for about nine months before I actually had the courage to wear it in public. I started wearing it (and blogging about it) on the feast day of St. Francis – October 4–and I wore it six days a week for a little over two months.
When were you most aware of your outfit? When were you most comfortable?
I was comfortable at home and in community and, interestingly, at worship gatherings – though there were times in all of those contexts that I wondered if people didn't think I wasn't being a little over the top.
I was most aware of it when I would go to places in so-called "high" society. Like the theatre. That night watching My Fair Lady I felt really self-conscious (the blog entry about the washroom line was the peak of that – my habit didn't have a zipper!) Generally speaking, in the city, I never felt too self-conscious.
There were times when I was at the park with the kids, or holding hands with my wife, that I really wondered about my privilege and how much I was appropriating something sacred and ancient that people have made a lot of sacrifices for – all for the sake of an experiment. But overall, I did feel like I was treating the "habit" with respect.
How did your robe-wearing affect your relationship with your wife and children?
Meagan (my wife) was super supportive and I think she's hoping that I re- engage the robe. Still, I was always very aware around being in public with her with it. The children are pretty little. I was worried they might not recognize me, or think Daddy only wore dresses from now on, but they seemed pretty good overall. It might be different if they were 14 and not 2.
How did it affect your intentional community? I live in a new monastic community (www.jeremiahcommunity.ca) and on the first day the whole community house where I live wore robes of some description or another in support. There were some folks in the community who joined along for a day or so during the experiment, including one person who wore a robe to his evangelical Bible College (and got more hostility there than I ever got, interestingly).
The robe raised a lot of dialogue in our community about the notion of radical public witness, and what it might mean to wear some kind of a habit – even as a new monastic community. I'm no expert on monastic history, but I've wondered if there isn't something in the earliest impulses to wear a habit that's being re-engaged by our young new monastic community in the (dis)robe experiment.
To read the full version of this interview with Rob Crosby-Shearer see here.