The Weird and Wonderful Ministry of Pete Holmes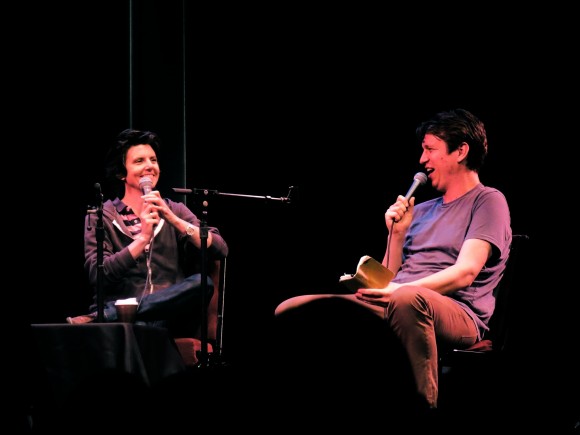 I have come to believe that by and large the human family all has the same secrets, which are both very telling and very important to tell. . . . They tell what is perhaps the central paradox of our condition – that what we hunger for perhaps more than anything else is to be known in our full humanness, and yet that is often just what we also fear more than anything else.
– Frederick Buechner, American writer and theologian, in his book Telling Secrets
Human questions
Telling Secrets is one of my all-time favourite books. Each time I read it, I am challenged to live a more authentic life and be more honest with myself and the people I care about.
Interestingly, I've found some of the things Buechner is getting at best illustrated on a podcast called You Made It Weird.
Launched in 2011, You Made It Weird is hosted by 36-year-old comedian Pete Holmes. Episodes typically consist of Holmes in conversation with a comedian, though non-comedians such as musician Matt Berninger (The National), Christian author and former megachurch pastor Rob Bell, and Franciscan friar Richard Rohr have also appeared on the show.
The conversations last roughly two hours and are wide-ranging, though the topics explored roughly fall into three categories: comedy, sex, and religion.
Do you believe in God? Is there an afterlife? What were you raised to believe? How have those beliefs changed over the years? Are you currently in a relationship? What do you like about the person you're with? What makes the relationship work? Have you, or has someone you know, ever had a near-death experience or dealt with a potentially life-threatening illness or accident? What do you eat? Do you meditate? What do you do, or what have you done in the past, that you feel guilty or ashamed about? When are you at your best? Can you recall the time you laughed the hardest you've ever laughed?
If you're interested in questions like that, You Made It Weird might be for you.
Life changing
For me, the podcast has been life changing. A friend turned me on to it two years ago, at a time in my life when I was focusing intensely on improving my physical, mental, emotional and spiritual health.
I'm always left with something to think about after I listen to it.
Much of the podcast's appeal for me is that I relate to Holmes. He grew up in a Christian household and received his post-secondary education at a Christian liberal arts institution.
His beliefs have changed significantly over the years, as he described during the Nov. 9, 2012 episode when guest Chelsea Peretti asked him if he believes in God.
"I believe that there is something," he said. "I think God is a word for something we can't describe … I don't believe in the God I used to believe in. I really believed in the lifeguard God that was watching and monitoring my thoughts. Like, if I [thought], 'I want to fuck that girl,' I believed in a God that was slapping me on the wrist with a yardstick. I don't believe in that anymore, but I do believe that there is something. I absolutely do."
Pete planned on becoming a pastor before deciding to pursue stand-up comedy, and he calls the podcast his "filthy ministry."
"This is my filthy ministry – it's true," he said during his conversation with Peretti. "All the butt-fucking jokes and all the jerk-off topics and all that sort of stuff [aside], at the end of the day, this [show] feels more like what I want church to be than what church [has been for] me."
"Here we are, just a couple of people – and it's different every episode – trying to figure it out from the ground up," he continued. "That feels like some good, godly work. Even though my mom would be upset by the things I say on the show [and the people at] my [former] church would be upset by the things I say on the show, this does feel like a … ministry."
Less alone
Holmes may call the topics he discusses "weird," but they're weird not because they're deviant or freakish, but because they are the things we don't always talk about as a result of guilt or shame, or a feeling that people wouldn't like us if they knew we felt a certain way about something or had made some mistake in the past.
By discussing them, Holmes feels less alone, and listeners feel less alone, too.
He talked about this with his friend and fellow comedian, Chris Thayer, during the May 18, 2012 episode.
"I'll say something [during my stand up act] that I've done, or more importantly that I thought, and I felt bad about, and they laugh, and that's what [You Made It Weird] is [about]," Holmes said. "We talk about all these weird things on the show, and I hope the listeners go, 'I do that too, I feel that way too,' and I hope we're validating them, and then them liking the show or listening to the show, is a way of being like, 'We like you too [Pete]. You're not a freak.'"
Then he shares this insight:
"'Cause I think there's a weird part of all humans: Somewhere inside of you is this idiot, this idiot child that thinks love is going to be taken away from you swiftly, and you don't deserve anything – you don't deserve friends, heat, comfort, food, sex, and it's going to be taken from you when it's revealed what a fuckin' weirdo you are, what a fucking freak you are."
"If people knew [the real] you, they could not love you," Thayer responded.
"Yeah," Holmes said. "But instead, what I think we're learning through stand up hopefully, and through things like this [podcast], is we're opening all the windows and being like, 'Here – take a look around.'"
Thayer: "We're all just freaks trying to get by."
Holmes: "I know you're joking, but –"
Thayer: "No, I am serious though, too."
Holmes responded to that by telling Thayer what he sees as the show's mission statement.
"If there's a mission statement lately on the show, [it's], 'I'm a nice, good person.' That's Part A," Holmes said. "Part B is: I've done some fucked up stuff. It's usually victimless, you know what I mean? I'm not hurting people, but I'm doing some weird shit that I want to talk about, and … for better or worse, I'd like my fellow man to go, 'I've done that too,' or, 'That's not that weird,' or, 'I love you anyway.'"
Impact on others
During the aforementioned conversation with Peretti, which happened on the podcast's 100th episode, Holmes reflected on the impact the show has had on listeners and himself.
People have told him that they lost significant amounts of weight because of things they heard on the show, or it inspired them to go back to school, or it gave them the courage to get out of a dysfunctional relationship.
"People come up to me and they're like, 'This show has changed my life, and it's made me better,' and all that sort of stuff, and I'm like, me fuckin' too," Holmes said. "I need help more than anybody I know. So anybody that's like, 'It's helped me,' it's probably helped me even more."
"That stuff I think is the most important work that I've done," he continued, "and I'm grateful to have the show."
Suggested listening
You Made It Weird is available for free download each week via Nerdist.com and iTunes.
If you're wondering where to start, the May 17, 2013 episode with Rob Bell and the March 18, 2015 episode with Richard Rohr will most likely appeal to Geez readers.
The Oct. 27, 2011 episode with TJ Miller, the Jan. 18, 2012 episode with Marc Maron, the Nov. 9, 2012 episode with Chelsea Peretti, the Aug. 21, 2013 episode with Whitney Cummings and the Jan. 8, 2014 episode with Matt Berninger are also all very good.
Aaron Epp is a Winnipeg writer who serves on Geez's board of directors. Follow him on Twitter: @aaronepp.