Awards from Canadian Church Press, 2017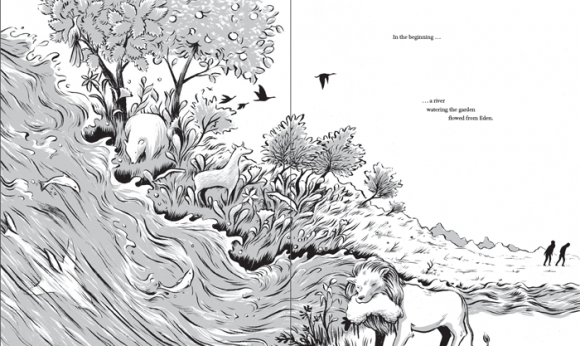 Hi, we just received word that the Canadian Church Press has given us two awards: first place for original artwork and first place for best layout and design of a single edition. I'm really proud of what this small, dedicated, creative, and idealistic(!) team can do.
As an independent, reader-supported magazine, we have a lot of freedom to explore aspects of a social gospel relevant to people inside the church, outside the church, and people upset with the church.
Congratulations to writers, editors, readers, and supporters. You're all needed to make it happen.
First Place – Original Artwork
For Geez 41, Spring 2016, The Watershed Issue
Opening and closing spreads by artist Jonathan Dyck
First Place – Edition Layout and Design – Circ. less than 10,000
For Geez 41, Spring 2016, The Watershed Issue
Design by Darryl Brown, creative director by Aiden Enns
Opening spread 1, The watershed issue, Geez Spring 2016 Credit: Jonathan Dyck

Opening spread 2, The watershed issue, Geez Spring 2016 Credit: Jonathan Dyck

Closing spread 1, The watershed issue, Geez Spring 2016 Credit: Jonathan Dyck

Closing spread 2, The watershed issue, Geez Spring 2016 Credit: Jonathan Dyck