Review: The Wages of Rebellion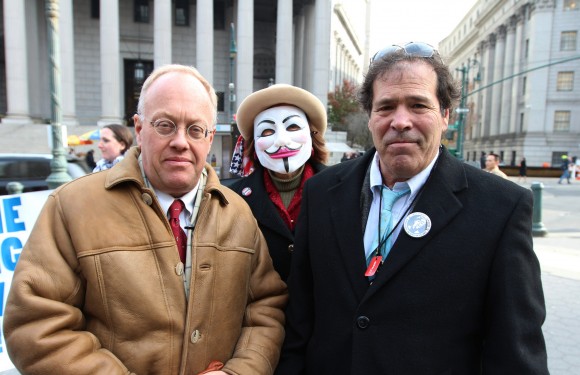 My friend calls Chris Hedges "an angry, drunk Noam Chomsky." Like Chomsky, Hedges is unflinching in his leftist politics, his indictment of the American empire and global capitalism, his meticulous research, and his political and social activism. However, his years as a war correspondent in the Middle East, Sarajevo, and South America provides a hard edge to his writing and speaking. Hedges, like Chomsky, finds inspiration in the Hebrew prophets, calling power to account, and acting as voices for the voiceless in their land.
Empire in decline
Hedges new book, The Wages of Rebellion, builds on his vision of the American empire in decline, unrepentantly squandering its vast natural, political, and moral resources to shore up a crumbling structure, all for the profit of a tiny elite. He sees the American political system as spent and corrupted by the influx of corporate money that creates an oligarchy where a democracy was promised. The practice of democratic politics as the will of the people is reduced to a piece of theatre, a spectacle designed to placate the masses.
He calls our time a "revolutionary moment" where a tiny capitalist oligarchy amasses obscene wealth at the expense of the vast majority of humanity, while depleting the natural resources of the world at an alarming rate with no concern for the millions of lives they destroy.
Hedges sees very little hope that the decline can be halted. This does not leave him hopeless as we might expect, but angry and rebellious.
Clarion call
The Wages of Rebellion goes on to tell the stories of modern rebels ranging from the black revolutionary Mumia Abu-Jamel, the hacker Jeremy Hammond, the attorney Lynne Stewart, and the philosopher Cornel West, to whistle blowers like Edward Snowdon. These and others are the stories of individuals possessed by great moral courage who stand up to the often unseen holders of power in the name of truth, justice, and love. These are also the stories of people who find themselves jobless, penniless, under constant surveillance, imprisoned, and exiled.
Hedges tells these stories in part because he believes they deserve to be told. He also tells them because he hopes, despite the pessimism of his understanding of our times, he might inspire us to rebellion. Finally, Hedges tells these stories as a clarion call to live a life of moral courage regardless of the cost.
Hedges' call to resist, as an ordained minister and a journalist, is grounded in a love for "the least of these" in our cities and towns, our nations and our world. A love with the courage to speak the truth and demand justice for our oppressed neighbours and our oppressed earth. His precursors are the Hebrew prophets, and like them he does not flinch at the cost of resistance.
Gary Conway lives in Winnipeg with his wife and daughter, and is a member of the Exchange Community Church Teaching Team.