The Color of Orange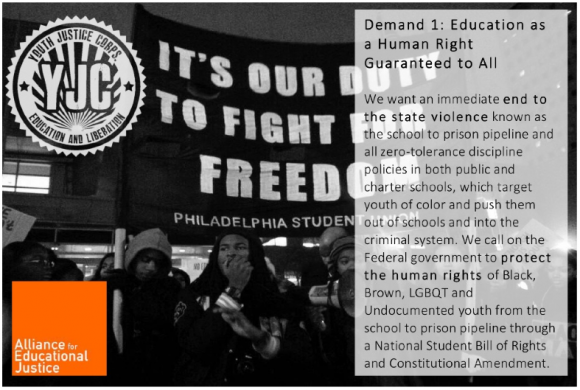 See a poem by Dee Dee Risher here.
Excerpt:
all the bathrooms are locked, and there are school military police
on every other floor. To use the bathroom, you need a pass.
To get a pass is usually impossible. The police-guards sometimes let you in,
or you have to try another floor, another guard. Good luck. (Read poem here .)
Fyi, We took some time deciding whether to publish this poem because of the conflicting views between the students, the police and the school administration. This led to our editorial note at the end of the poem. Dee Dee is a regular contributor to Geez magazine and personal friend. She's was the editor of Conspire magazine, and was on the editorial team of the progressive Christian magazine The Other Side, which was an early inspiration for Geez. See her article about trying to raise kids in an online world.
Photo credit: From a social media kit provided by the Philadelphia Student Union. See their Twitter page, @215studentunion see also #AssaultatBenFranklin.