Call for Pitches: Geez 44, Prisons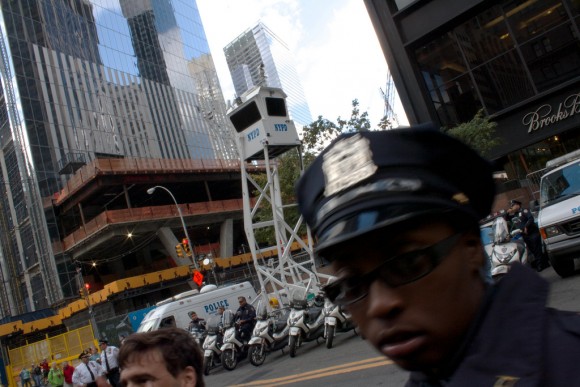 Deadline for pitches: June 9, 2016
What kind of world do you want to live in?
What kind of world do you want to share?
How can we work together to get there?. . .
What are your freedom dreams? – @Keguro_
We live in a carceral culture. That means everything – from our schools to our design of public space to our critical thought to our behaviour on airplanes – is infected with thinking of control and coercion as normal and appropriate responses to the challenges we face as a society; of surveillance and detention and restraints as necessary tools of control; of locking people up as a reasonable act with a desirable social outcome. But to think of prisons as effective for public safety is to have a very narrow understanding of public safety. In this issue of Geez, we seek to widen that understanding.
We want to understand the prison experience from the inside:
What does incarceration mean for inmates, guards, and victims of crime? For their families? Is this system working for any of them? What would make it better? Do prison inmate programs (including faith-based ones) provide comfort and assist in rehabilitation? Or do they aid and abet a deeply flawed system of retribution and injustice?
And we want analysis of the bigger picture:
What is the intellectual history of the idea that prison is a necessary and effective response to crime? Why does it seem natural to think of crime and punishment in terms of individuals? Black and brown and poor people are criminalized for driving offenses (and die while jailed) and selling black-market cigarettes (and are killed while being arrested).
Banks and oil companies and mining corporations are fined (but seldom to the bottom of their very deep pockets) for economic and environmental disasters and allowed to keep their freedom to operate. Why are we willing to make this trade-off? What are we gaining from it? What are the racist and colonial roots of our criminal justice system?
We want to foster some freedom dreams:
Mass incarceration should trouble a civil society, and there are signs that it is beginning to do so, but the problem with prison is not just the numbers. As @prisonculture regularly reminds us, "the system isn't broken, it is working the way it is supposed to." Nonetheless, don't we need some kind of system? What does a decolonial and anti-racist perspective of carceral spaces and restorative justice look like? What are alternatives to prison in our communities?
And, finally, the perennial niggling problem when we try to think through prison abolition:
How do we respond in a non-violent way to violent offenders? What about in cases of rape or domestic violence? How do we avoid re-victimizing those who have suffered at the hands of others? What about Charles Manson or Robert Picton or Anders Breivik?
Guest editors
We are pleased that two guest editors, Miriam Meinders and John K. Samson, have joined us for this special issue issue.
Send your pitches to stories [at] geezmagazine [dot] org
Notes about submissions
We want long-form journalism, personal stories of transformation, short bursts of feelings, nuggets of insight, and inspiration. Pick your aspect of the topic and expand with personal experience, researched wisdom, or spiritual insight.
In a great pitch, you describe the story, explain how it's a perfect fit for Geez, list the sources you'll consult, and state why you're the best person to write it (see contact info and deadline below).

1. Longer non-fiction pieces, length: 650 or 1300 words: 

We're looking for creative non-fiction essays, investigative articles or research-based pieces on the topic above. While a reference to your personal experience is welcome, readers need wisdom from other sources as well (interviews, books, articles, theologians, social-justice activists, academics, and moms and dads). Pitches should be one page, touch on the wider context of your topic and name at least one other source you will be consulting. Here's a request: Please think of yourself as a Geez contributing editor. Ask yourself, What would readers who are social-justice oriented and at the fringes of faith want to read on this topic? If your pitch is accepted you'll usually have three to four weeks to complete the piece.
2. Flash non-fiction, length: 50-350 words:

These are short, personal experiences or insights. Your piece should capture a moment that illuminates a larger issue or convey a feeling familiar to us all. This is a chance to bring hope, insight, emotion, and connection to readers. Think of it as a snapshot with words.
3. Photos/illustrations: 

Consider the topic above and send original photographs (i.e. you took the photo) or illustrations that provoke or pacify, animate or incite. Or, if you know of a photographer or illustrator who can deliver an awesome photo essay or series of drawings and is willing to get big play in a premium little magazine for a modest honorarium, please pass this pitch along.
Tips for pitches: 

The Geez project is a discussion among people of faith seeking social justice. Our readers and writers express this through art, activism (a creative critique of those in power and the structures that keep them there, the promotion of alternative practices that subvert such powers), contemplation and a "more-grounded, interconnected" approach to living.
Additional info


Before pitching, please read our guidelines for writers. 
Ideally we would like to respond personally to every piece of correspondence we receive. But given the number of submissions we receive – and having tried to respond to all – we realize it is just not possible. If you do not hear back from us within six weeks assume that we were unable to use your submission.
Deadline for pitches: June 9, 2016
Send pitches, manuscripts and images to


Geez Prison Issue Editors (Miriam Meinders, John K. Samson, Aiden Enns)
email: stories [at] geezmagazine [dot] org


mail: 
Geez magazine 
400 Edmonton Street
Winnipeg, Manitoba R3B 2M2
 Canada
Image credit: CC, Felipe Cabrera, flickr.com