Gear up for Spring with New Geez Merch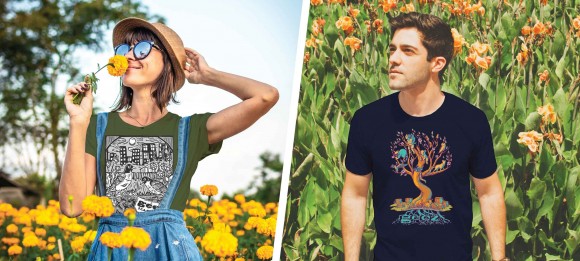 Earlier this year, we invited you to dream with us in creating a new t-shirt design for Geez through Art on Our Sleeves. The concepts were selected, finalized and perfected, and are now ready to pre-order. You can rest assured that all t-shirts are union-made using organic cotton.
Pre-order your t-shirts by April 30 to ensure your size. And have no fear, the pins are one size fits all. Pre-orders will be mailed in the summer.
Compost Geez Shirt
Compost Geez Shirt by Sarah Fuller
$30 adult (Pre-order for $25)
"There are a lot of birders in my family. They give each other reports on when the raptors are migrating, who is crossing Lake Ontario, when the robins reappear in the spring or if they've been there in a flock all winter. If someone goes on vacation, they send a group email to family members, listing all the birds they've seen.
For this T-shirt design, I was thinking about the Geez theme suggestion of "Intimacy with Earth amidst climate collapse." I wanted to put robins in the design because they are also a symbol, to many, and to people in my family, of the changing seasons and the order and rhythm of the world we live in. They are also an example of an animal that has already changed its habits due to global heating. We have all the signs now to see what our human decisions are doing to this world.
I also thought of robins and their intimacy with Earth. They are often found on the ground, looking for food there in the rich ecosystem of the soil. We humans get our food from the same source, though it can be possible to forget in the towns and cities removed from these processes, pictured in the background of the design. Yet even in those places, it's not a separate place from Earth. The birds are there, and patches of dirt and life, like this yard that can be accessed through a gap in the fence. The plants in the image are dandelion and chicory, two common plants where I grew up in southern Ontario, considered weeds but also very beautiful and very useful. They make me think about the gifts of nature that are there for us, if we have a little memory and a little understanding.
The Geez magazine is pictured half-buried in the dirt, surrounded by worms and other small soil creatures. I was thinking about how our human ideas affect the earth, and how our best ideas right now are ones that embrace humility, mortality, and a view of ourselves as a part of a community of life and not as something above or distinct from it, which is a fantasy. The image of a human creation like a magazine underground is also a memento mori. It's an acknowledgment that we are a part of the Earth and also a warning against ignoring that reality."– Sarah Fuller
Geez Respite Shirt
"In this design, I dove into your prompt "Intimacy with Earth amidst climate collapse". I drew the last standing tree hosting a variety of animals while being surrounded by the man-made destruction of natural habitats. And even this one tree is wearing a gas mask to help it breath and support life. I chose animals from various geographic locations to point to the fact that this situation is global. Nestled within the tree's roots is the Geez logo because it is grounding for us to be able to share the wealth of knowledge and inspiration that sprouts from your magazine's pages." – Meg Lemieur
Geez Respite Shirt by Meg Lemieur
$30 adult (Pre-order $25), $18 kids
Snail Mail Pin
At Geez, we believe in pen and paper. We believe in the power of words. We believe in slowing down and taking time. In this pin, we honour the snail's pace of life – which is one with print media and letter mail.
Snail Mail Pin by Owen Swain
$3/pin