Signs of Dawn Liturgy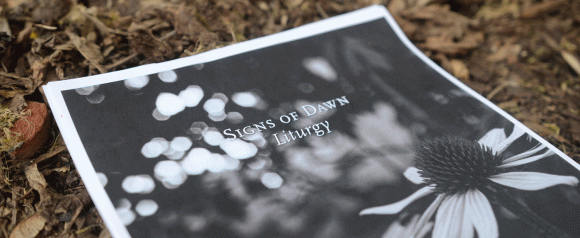 This spring, we released Geez 60: Signs of Dawn, which dares us to believe in new life (that's really not new at all) and hope that can bring even the mightiest walls crumbling down.
For each issue, we offer a tangible magazine to pass between hands, pieces to listen to read by the authors, and a study guide to engage deeper within community. And yet, we also believe there is more. We believe these pages can also be prayed. Between the pages there is breath and space for contemplation.
We believe that in this moment, resurrection is a prayer. A prayer that so often these days feels impossible. As COVID numbers rise around North America, but especially in Ontario, it feels hard to hope. As the Derek Chauvin trial lingers on for the murder of George Floyd and now Daunte Wright has been killed by the police, it feels hard to hope. From Yemen to the United States/Mexico border, from the emergency room to our empty school rooms, it feels hard to hope.
Yet we pray it anyway. We dare to pray for the absurdity of resurrection. And maybe if these words are on our lips long enough and hard enough, suddenly our lives will indeed become living testimonies to the power and practice of resurrection.
Gathering and Liturgy
On April 25, we gathered to offer this liturgy woven together with words directly in the issue. We came together online to offer a blessing and envision a circle of connection that spanned across Turtle Island, from Missouri to British Columbia to Tennessee. We then signed off and took the liturgy out on our own, knowing we were all praying it at the same time.
There is room for more in this circle. We invite you to go outside and find a place where you can rest your body on this earth, for some moments of contemplation and connection. Bring some bread and a copy of the liturgy.
Find the full liturgy here: Signs of Dawn Liturgy
Opening Prayer
Oh God,
who dwells in the darkness,
who rests gently in death,
who weeps when we are weeping.
In empire's courtrooms, prisons, and bloody streets,
you are there.
In the gates of the pipelines across Turtle Island,
you are there.
In the crowded hospital corridors,
you are there.
In the isolation of our homes,
you are there.
In the salons and grocery stores,
you are there.
In the tomb, sealed and guarded,
you are there.
Sometimes in these long nights,
the only place I can be with you
is in the grief and the pain.
It seems to be what is real,
what is consuming.
Yet, here we are
daring to say that
there is something else breathing.
And that you are there too.
May we have courage to keep our eyes open,
Imagination to see it,
And the audacity to believe it.
May we dwell here with you.
Amen.