Review
Harnessing the soul for the marketplace
The Soul At Work: From Alienation to Autonomy
by Franco "Bifo" Berardi
Translated by Francesca Cadel and Giussepina Mecchia (MIT Press, 2009)
A book review by Joshua Paetkau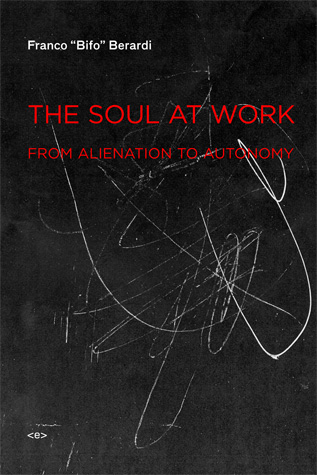 The advent of digital technology has over- seen, perhaps, the greatest shift in the ergonomics of labour since the Industrial Revolution. In The Soul at Work, Franco "Bifo" Berardi presents a detailed philosophical and historical account of these effects.
Berardi, an Italian media theorist and activist who was part of a pirate radio project that challenged prime minister Berlusconi's media regime, has a keen eye
and intricate knowledge of the changing dynamics of human labour in an increasingly digitized world. Central to his argument is the claim that the soul has been harnessed for the benefit of the capitalist marketplace.
The soul, Berardi explains, is the area of human existence involving language, creativity and affectivity. He con- tends that in the sphere of digital technology and cyberculture the mind, language and human emotions have become central areas of capitalist exploitation. The proliferation of subjectivities has come to play a large role in the global economy. Advertising has a part in this, in conjunction with a more general hyper-connection to the world of information. Berardi writes, "Attention is under siege everywhere. Not silence but uninterrupted noise, not the red desert but a cognitive space overcharged with nervous incentives to act; this is the alienation of our times."
The alienation of our times is, in a sense, the erosion of human time. The time we spend with our loved ones, or contemplating the beauty of a work of art or the natural world. Even the time we spend learning a difficult subject or engaging in deep conversation. In a world driven by competition and accumulation we have become a species of increasingly anxious and obsessive creatures, isolated in our unhappiness, teetering on the brink of depression.
"Depression," says Berardi, "is based on the hardening of one's existential refrain, on its obsessive repetition." The task at hand, he argues, is not to renormalize or bring the person back to their prior stability, but to "deterritorialize" and refocus the energy. A chemically-induced euphoria is unsustainable, whether in the individual or in society at large. What is wrong is not the depressed person, or even economic depression. What is wrong is a world wherein we constantly see others as opponents, where we are enjoined always to compete. This world lacks harmony, lacks beauty.
So, when Berardi proposes autonomy as the overcoming of alienation he seems to acknowledge a liturgical formativity. Informed by a tradition and practiced by a community, rhythms and rituals challenge, incompletely but with perseverance, the capitalist production of desire. Human desire is not innate; it is formed through our daily rituals and our rhythm of life. To challenge the bifold logic of competition and accumulation as the root of desire is the start of the long slow process of autonomy.