Sinner's Corner
Sinner's Corner: I have been gluttonous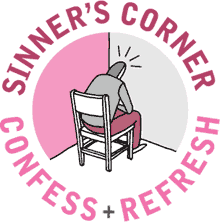 Sinner: Michael Turman, Waterloo, Ontario
Secret Indulgence: I have been gluttonous. I have eaten too much in the name of international aid, development and assistance. With the lofty objective of supporting the work of a reputable church-based development agency, I gave myself permission to eat sickening amounts of fried food, ice cream, donuts, kettle corn and more.
Moral gymnastics: At this event I learned about a number of church agencies who actually feed the hungry, clothe the naked, lift up the powerless and visit the prisoner. Everyone I know was there, standing in line for pie or apple fritters.
Though I would like to confess on behalf of my community for the sale of such indulgences, perhaps I just have too weak a stomach to do the hard work of relieving the world's needs by proxy. I am truly sorry for all my sins and for the whole pie and the box of spring rolls I brought home with me. I think I'll share them later tonight with my wife and in-laws.
Penance: I'm sure you're aware, Michael, that slicing up your leftover guilt and serving it up hot at home won't relieve you of this burden you carry.
St. Gregory the Great identified five ways one commits the sin of gluttony:
1. Eat before mealtime in order to satisfy the palate.
2. Seek delicacies and better quality of food to gratify the "vile sense of taste."
3. Seek after sauces and seasonings for the enjoyment of the palate.
4. Exceed the necessary amount of food.
5. Take food with too much eagerness, even when eating the proper amount, and even if the food is not luxurious.
While I realize this reads like an operating manual for North American food consumption, it can also serve as a pattern for your redemption.
Because the heavenly virtue that corresponds to the cardinal sin of gluttony is temperance, I invite you to set aside one week to practice temperance or self restraint in eating in these five areas:
1. Limit consumption to three times a day.
2. Eat medium quality food.
3. Avoid culinary stimulants (you know your weaknesses better than I do).
4. Limit the quantity to a general amount.
5. Refrain from eagerness while eating even modest amounts.
And when this big Christian shindig rolls around again next year, which we all know it will, practice the same temperance, and ask one friend to join you.
Bless you, my son.
Margot Starbuck, Confessions Editor
Send your confession to Margot at sins [at] geezmagazine [dot] org. Whether you regularly give motorists the finger when cycling, prefer Guns N' Roses to the musicians at church, or get lured in by the smell of deep-fried indulgence whenever you're near McDonald's, absolution is at hand.