Of radicals and root vegetables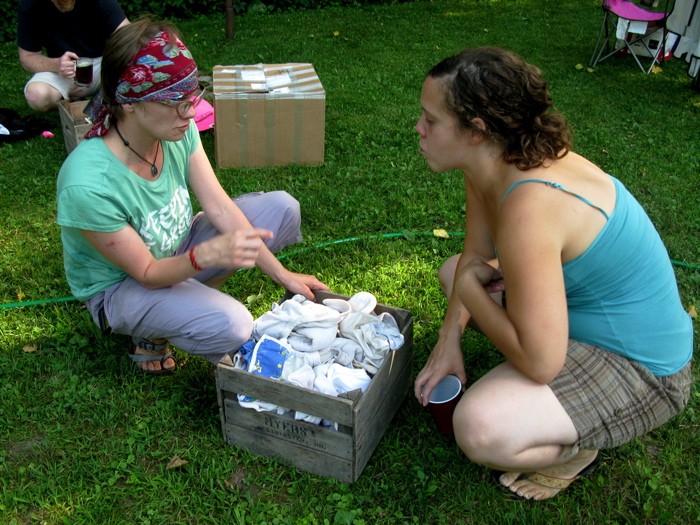 It has been sixteen years since my husband and I met at the Toronto general strike, getting butterflies while making up protest chants and eating vegetarian sandwiches; eighteen years since my circle of Jesus-loving friends and I committed to check in with one another a couple of decades later to make sure we weren't "living in suburban mansions with four-car garages."
Nearing the end of my 30s, I find myself looking back at those days and the years of everyday life that have followed. My journey as a Jesus-centric social justice activist has evolved from on-the-streets protest and radical visions of communal living to more pastel-painted renditions of activism: I co-own a house, but we're just two ordinary families. Instead of pioneering a new model of urban food access, I coordinate our neighbourhood's good food box group. My daughter and I were part of a successful campaign against Walmart a few years ago, and last year we helped cover Toronto's city hall square in sidewalk chalk protests, singing and marching against proposed cuts, but I must admit I observed the recent Occupy Toronto movement with a detached kind of interest.
Life has not quite been the radical party I thought it would be on many fronts. There are no four-car garages in my life, but we do own a car, and sometimes I drive it places – sometimes, even, to places I could have reached on my bike. My temporary concession of fish-eating during pregnancy stuck, making me not quite a vegetarian anymore. I send my daughter to school, and although I'm still a home- schooler at heart, it's been a good thing for her and a great neighbourhood immersion for our family. I'm determined not to be a rampant consumer, hearing the first-century apostle Paul's exhortation, "Don't conform to the pattern of this world!" as a call never to feel at home in what John Francis Kavanaugh calls "the commodity Kingdom," but I can occasionally be found shopping at stores with a poor reputation around labour rights and sustainability out of convenience, or buying things just because they hit my happy consumer buttons (made from organic cotton! hand-dyed with vegetable dyes! by a women's cooperative in Peru!).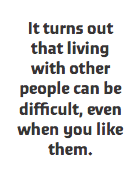 In some ways, the years since my student days have taught me valuable lessons in how to live out a commitment to justice and simplicity. It's one thing to show up for protests and speak passionately about the need for change, and another thing to enact that change. Learning to use local veggies and fruits (which means, in our climate, lots of hardy roots through the winter), dried lentils and beans, and local alternatives to sugar, for example, has required a complete overhaul of our cooking and eating norms. Our first, enthusiastic foray into the organic food box I now coordinate was a dismal failure, with beets and parsnips lingering at the back of the fridge for months. Some things, thankfully, came more naturally. We don't have a television, and we avoid clothing or other objects with brand names on them. We diaper our babies in cloth. And although I'm no Wendell Berry, I've managed to remain unencumbered by cell phones and social media.
Cloth diapering and cooking with dried beans doesn't sound like much of a revolution. But in Colossians Remixed: Subverting the Empire, theologians and radicals Brian Walsh and Sylvia Keesmaat give credit to mundane actions like these as the way to kick back against the pull to become "docile subjects of the empire rather than free citizens of the kingdom."
And then, of course, we share our house, shouldering together the ownership and bills, sharing regular meals, loving each other's children, praying for each other and being privy to the intricacies of each other's lives. It turns out that living with other people can be difficult, even when you like them. That should be immediately obvious to anyone who's ever, say, lived with a spouse. Or a family member. But somehow it had escaped me that fervently believing in community and being well versed in Jean Vanier is a different thing from actually living it day by day. People often ask, "Does it work? Is it good?" and yes, it is good. It's real, though, so it's also hard. But that doesn't mean it isn't good. I am especially grateful for the relationship our children have with each other, growing up together. And, unexpectedly, co-owning our house has protected me from the potential for vanity and covetousness in home ownership – I take the house only so seriously, and no more.
In some ways, I think I've conceded too much. Is this the typical mellowing out that happens with age and marriage and parenting and house-dwelling? Am I settling in and selling out? Perhaps, and that stings. But perhaps not. I can see how my initial passions have been integrated into the praxis of daily life – a flourishing of the seeds of intent.
Leanne Wild lives in Toronto, Ontario. She has been a teacher and advocate with at-risk youth and has worked in community development. Currently, she spends a lot of time making soup and changing cloth diapers. When asked what she does to resist hierarchies in her everyday life, she says, "I listen, seriously, to children, especially the ones who call me 'mommy.'"