Moving up, coming out, moving on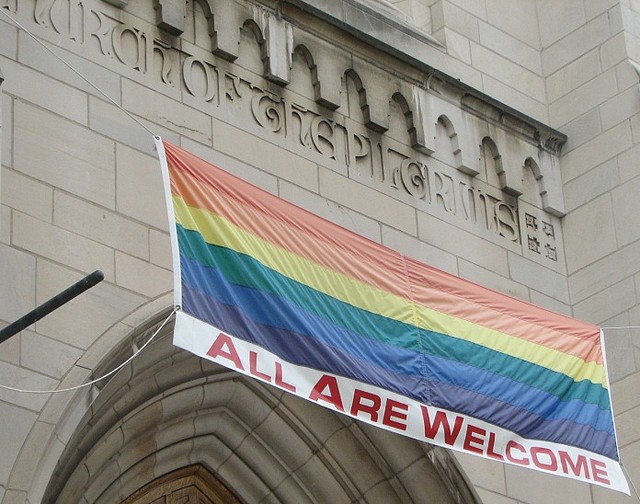 I remember what it was like to be acceptable and perfect in the eyes of the church.
I was a deacon, a former music minister, guest preacher and religious education director, raised in a Southern Baptist church by a pastor father. I was moving up and establishing myself as a thoughtful, exuberant voice of wisdom in my church. I earned the maximum amount of love and acceptance because I was doing everything "right."
But I learned at 34, rather late, that I was gay. So trained to believe that homosexuality was a sin, I nearly took my own life. Thankfully, I didn't follow through. I decided, instead, to research what God and the scripture said about homosexuality, and to listen to other gay Christians tell their stories. I took three years to weigh everything – I didn't want to be wrong. Thorough discernment I became convinced that Christians can be gay, and we can have relationships too. Still, the thought of sharing this news with my church gripped me with fear: I could lose my family, my community, my support network, even my identity. Being a Christian is a huge lifestyle choice.
So I waited a few years, getting deeper into church service. It didn't feel important to come out, except that I was lonely. I felt God telling me to do it – that he couldn't do much with me closeted. I was petrified. Part of me said it would be okay – that I wasn't just any gay, I was someone my church family loved.
So I gathered up my courage and I came out family by family, trying to make it personal through three-hour coming out sessions. I cried. They cried. Though I tried to contain the news, it soon charged through the congregation like an electric current. Instantly, all my relationships changed. People felt hurt, betrayed, angry, confused – and a few lept to my side in support. Church elders asked me to swear to lifelong celibacy, but I knew that wasn't their call. I was forced to resign from service in the church. The congregation was asked to choose between two interpretations of scripture, and they chose a condemning one. We tried for a year and a half to love each other, thinking the other side would see their error. My few church friends didn't know what to do to help me – not against a whole church and pressure from the denomination. For me, the stress of fighting was too much. Then one day I tried a new church. In the pew I found a thin leaflet that welcomed me as a gay man. It was like someone gave me a cold glass of water. I nearly cried for happiness and relief. I moved to that church. I realized I had almost died of thirst while my church professed to be loving me.
I would come out all over again even knowing what I would lose. I have freedom to speak out, to serve, and to find love. I have my integrity and a new peace. My whole life opened up, but I had to risk losing friends, reputation, respect, and position for it to happen. I never lost God, so I never lost hope.
- Jerome Stueart lives in Whitehorse, Yukon Territory and works as the marketing director for the Yukon Arts Centre. He also maintains a blog of gay Christian resources at talkingdog.wordpress.com.