Culturosities
Mama Cutsworth's homeschooling mix
Sarah Michaelson works as a professional DJ in Winnipeg under the name Mama Cutsworth.
You can listen to this playlist online here.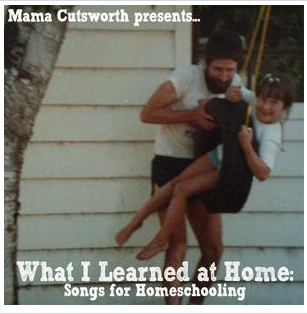 Paul Simon, Me and Julio Down by the Schoolyard
I realize this song is about kids committing a crime and skipping town, but the freedom it expresses conveys how I felt on my first day of homeschool. It was grade 3, the day after my ninth birthday, when my parents told me I didn't have to go to school again. I thought to myself, "I'm on my way. I don't know where I'm going, but I'm on my way."
The Sylvers, Only One Can Win
Made up of nine siblings, The Sylvers made soul music in the early 1970s. They had to get along through record deals, radio hits and some siblings later going solo. So remember: if you ever want to start a family band, sibling cooperation really blossoms in a homeschooling environment.
Charles Wright and the Watts 103rd Street Rhythm Band, Express Yourself
It's a simple message that can get lost in a lot of traditional schools. Be smart. Be weird. Be curious. Be who you want to be.
Lady Daisey, Hometown
The beauty of homeschooling is that it can happen anywhere. We learned how lichen grows on the north side of trees when we were in the woods. We learned how to fix flat bicycle tires on our way to grandma's house. My friend Lady Daisey, a homeschooler, travelled around in a Winnebago with her family making music – which just happens to be what this song is about.
Toro Y Moi, Studies
This song reminds me of the way many of my regular-school friends felt about school: "Worried 'bout the class / That you think you failed." I've always loved to study because, to me, studying is all about curiosity.
Kings of Convenience, Failure
I think fear of failure stems from childhood, like the fear of being held back a grade in school. Homeschooling can give you a less-severe sense of what happens when you fail. Kings of Convenience have it bang-on: "Failure is always the best way to learn."
Andrew Bird, Waiting to Talk
One of my parents' frustrations with school was that a lot of class time was wasted, like waiting for people to find their places in line, or waiting to use the washroom one at a time. At homeschool you don't have to wait. You can just talk, listen and learn at your own pace.
Andy Creeggan, Attendance
This is a lovely piece of music that samples a teacher taking class attendance and each student calling out "Here." After leaving school, it was noticeable that we didn't begin the day with mom taking attendance. There were three of us kids; what was the point in attendance?
The Robert Glasper Experiment, Open Mind
Learning in an untraditional environment can expand a child's view of themselves and their environment. You grow up interacting with people of all ages. You meet people from many walks of life and learn to appreciate difference.
Aloe Blacc, I Need a Dollar
Let's face it: parents sacrifice a lot of income just to stay home with their kids. We lived a life of garage sales, bargain bins and creative uses of leftovers.
Spanky Wilson and the Quantic Soul Orchestra, You Can't Judge a Book by its Cover
You can't talk about homeschooling without mentioning books, especially library books – getting my first library card was a rite of passage.
Fleetwood Mac, Go Your Own Way
You can go your own way: you can learn at your own pace; you can get excited about something and just run with it; you can learn however it works for you. Plus, Fleetwood Mac is pretty darn great.
You can listen to this playlist online here.