Just wait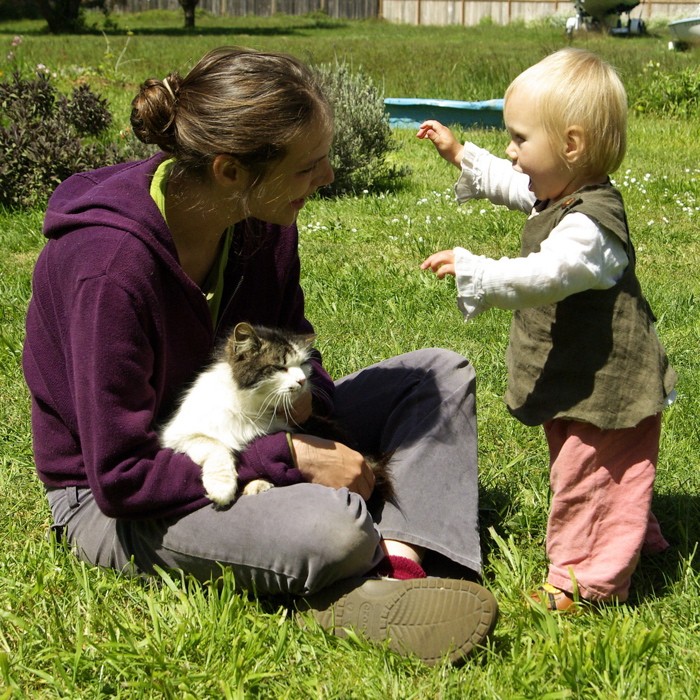 Not owning a cell phone has become a piece of my identity, a symbol of a bigger resistance I hope to uphold – a resistance that values simplicity and a Creator-centred, Earth-careful, people-honouring way of life.
There have been moments when I've wondered if I'm holding out for the sake of self-righteousness: give up, be normal, get a phone! Moments like these: I am at the bottom of a ravine with my young children without an "if-we-need- help" plan, or I'm running late and can't give my friends an update. True, it might help if I try harder to be punctual, or if I teach my children what to do in an emergency, but even so, I'm constantly reminded that it's weird not to have a cell phone. I suspect that my resistance is somewhat futile.
The weirdness, of course, lies not so much in my not-having, but in the contrast of my reality against to those who have, and in the new set of social patterns that have emerged. When email updates are immediate, texting is preferred, and plans are made in the moment, the person without a cell phone gets left out of the loop, a burden to others. I can call to mind many reasons not to own a cell phone – the labour and environmental atrocities involved in their assembly for example – but, when it appears that my refusal could compromise my family's safety or inconvenience others, I am torn.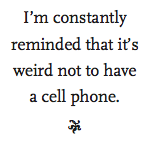 So I waver. Or, I did waver, that is, until a recent conversation at a "baby and mom/dad" program in our neighbourhood sparked an epiphany. It was the kind of program with a song circle, some parenting discussion, free food, and a chance to connect with others. Most in the group were first-time parents. I was there with our most recent child, but my first child is now 8, making me a good 5-10 years older than the other parents in the group. The mommies waved their smartphones at each other, cooing over photos of each others' babies, and laughing about Facebook posts – all things foreign to me.
A sub-group of the parents, who gave off echoes of the popular girls in high school, invited me to connect with them. I'm not sure how I qualified, but one woman sought me out after the program to invite me to join their Facebook group, "mommies in the beaches." I was sincerely thankful (it's nice to be included in parent-baby social networks!), and explained apologetically that I don't use Facebook. She was taken aback, but gracious, and promised to let me know if they were planning an outing by texting me. Already feeling embarrassed about my seemingly cavewomanly existence, I muttered that I didn't have a cell phone either. Utterly astonished she exclaimed, "but what do you do then – just wait?"
I wasn't sure how to take the question (What did she mean? – Wait for what?), but having felt like enough of a spectacle for one day, I gave her my phone number and packed my daughter into the baby carrier for the walk home.
It was an especially lovely spring day, and I walked gladly, grateful for so much – the soft weight of my baby against me, the trees along the way, the songs of birds, my neighbours' gardens, the cadence of footsteps of fellow pedestrians, the symmetry of porch chairs. As I walked, it dawned on me: if I had a cell phone, I would be checking it right now. I'd be reading email, texting someone, maybe scrolling through Facebook. But I don't have one, so I just wait – until I get home. Then, if I want to, I can hear phone messages, or log on to our computer and check email. I wait. And the gift of my waiting is that I see, breathe, feel, know the joy and beauty of this walk. It was an epiphany: I just wait and I am so very glad I do.
Leanne Wild lives in little India/Leslieville in Toronto, Ontario. Her favourite way to stay offline is to be outside.