Experiments
Homemade Outfit from Head to Toe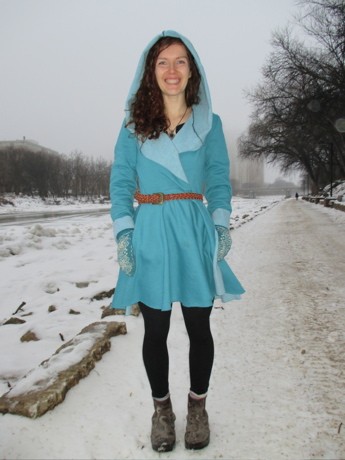 In late October 2014, I wore only clothing I had made for one whole week.
It was a challenge that motivated me to finish a bunch of sewing projects and minimize the amount of clothing I purchased. I wanted to be homemade from head to toe, so, along with pants, shirts, skirts, and a sweater, I included underwear and socks. Because it was fall, I needed a coat and pair of shoes, as well.
I harvested fabric from used garments, but I also went to a local fabric shop and splurged on some bamboo fabric for one shirt and the underwear. The used fabric was definitely the cheaper option. I bought extra-large t-shirts for the shirts and dresses and an old blanket for the coat. I unravelled wool from old sweaters to knit the socks.
The week I wore my homemade clothes was really awesome. It felt like playing dress-up seven days in a row. I felt more outgoing and expressive when I wore my own creations. It also felt good to know that I had the skills to make warm clothing.
Things that really helped me during this experiment were my serger (really great for sewing stretchy fabric and making neat-looking seams), affordable fabrics at the Mennonite Central Committee Thrift Shop, and free sewing patterns on the internet. I will definitely continue sewing my own clothes. It wasn't nearly as hard as I thought it would be. After making shoes I feel like I can make anything now.