A radical homiletic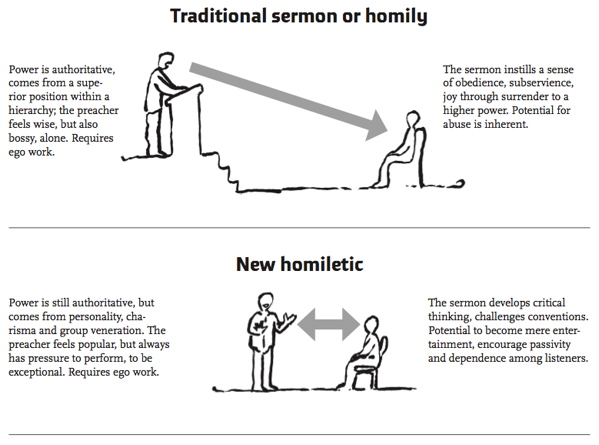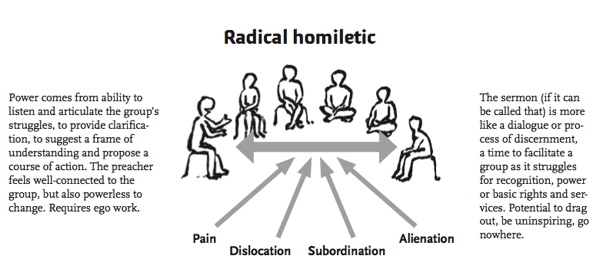 Traditional
The traditional sermon is characterized by mechanical notions of structure, for example, a number of points that reinforce a conclusion. It assumes vertical notions of authority and uses the Bible in propositional ways. That is, it offers truths as if they are non-negotiable rules. Stories used as illustrations of points already made. The sermon assumes that religious experience is universal and that faith requires information.
New
Since about the 1950s, the sermon has taken a turn from the preacher who delivers truths and emphasizes the diverse world of the listener. The form of the sermon is organic, it often takes the form of a story, with a narrative plot. Listeners learn as they watch characters who struggle. There are horizontal notions of authority. The Bible embraces a treasure of stories that illuminate God's presence among the people, but this needs to be discovered, often inductively. Truth differs with context; language is dynamic. Through the power of story, the sermon brings about transformation within the listener.
Radical
A radical message pays attention to power structures, the social location of the speaker and the listeners, and it examines the language and behaviours that reinforce those structures of power.
These messages look like those from the new homiletic, but with a twist. The topics revolve around power imbalances, how they come about, how to challenge those in power, how to survive injustice. Dialogue with oppressed groups of people keeps vital the spirit of resistance (writes Chrisitine M. Smith in an essay called "Preaching as an art of resistance"). Some moralistic teaching is acceptable as long as the preacher is implicated in the lesson as well. The use of irony and comedy can point out tension and lead to surprises by grace. This is in contrast to stories with heroes, which results in moralizing and judgment. (See Allan-Rudy Froese's 2012 PhD thesis from the Toronto School of Theology on the topic.) For more on radical preaching see Leonora Tubb's Tisdale's book, Preaching as Local Theology and Folk Art.
Source: Paul Scott Wilson, The New Homiletic