Speaking Truth to Innocence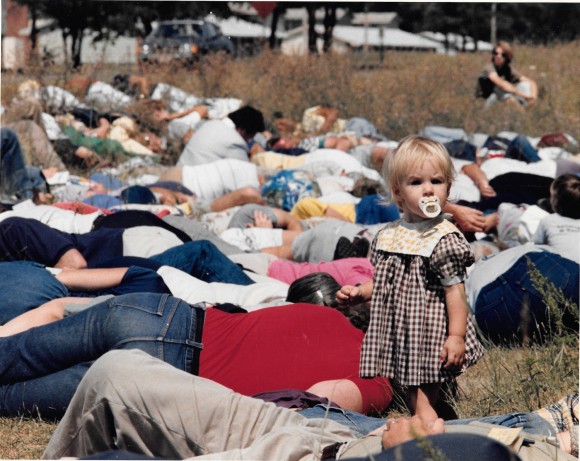 The sun hits my face hard as I listen to the water from the fountain. As I look up and around, I am aware how little this downtown resembles the city I know anymore. The faces are all young and white (not unlike my own) playing beach ball, listening to live bands, sipping mid-day cocktails, and eating from food trucks. I look down at the 25 black bodies lying on the cement draped with signs and names of those killed at the hands of the police. On my lap sits the one-and-a-half year old who is my constant companion and teacher these days. He watches intently holding an air of seriousness in his body.
Those around the bodies begin to chant "Black Lives Matter," and "Stop. I Can't Breathe." I start to join the chants as I have done all my life from one protest or die-in to the next. But the words keep getting caught in my throat. The shock of even having to say those words out loud in this world crack any momentary belief that things are okay. Across the circle, I watch a black mother talking to her two boys – one around four-years-old and the other Isaac's age. I wonder what words she uses to explain this to her kids while I feel the privilege shutter through my veins and out my heart. I hold Isaac close trying to find the words to tell him and struck by how different my words will be. How do I explain to this child that he, as a white man, will never know the fear of systemic racialized police violence that puts his life in danger every day?
Truth-telling
My parents told me the truth. It is one of the things I most admire about them. At home, we were witnesses to their love and relationship. When they fought, we knew. They modelled for us how to honour your anger and fight with your partner without being mean. And it wasn't unusual that on a beautiful day, we were kicked out of the house so my parents could make love. All the messy and beautiful humanness of life was given to us as gift to learn the sacred ordinariness of it all.
This was true on the streets as well. I was carried in utero to Nicaragua with Witness for Peace and passed between jail cells as a toddler. I learned the liturgical year by where we placed our bodies – Advent spent lighting candles in the dark outside a nuclear weapons plant and Good Friday carrying to the cross through the streets of Detroit marking the places Christ was being crucified today. For a year, we missed school Thursday mornings to join protests as part of the newspaper strike.
I never felt dragged from protest to protest. I felt that even as a young child, I was giving my body and voice to struggle and that a child's spirit was powerful. It was because we were told the truth. Each place we went, no matter how horrible the injustice at hand, we were told the history, the stories, the names of the people, the pain, and the hope. I give thanks. I give thanks for the trust they had in us as little human beings. Trusting we had something to gift in these places and that our hearts could hold the pain. Truth-telling is a bold and courageous act of parenting when you love your child so much and want to spare what pain you can while you can. To be trusted with the truth while surrounded and grounded in a community that loves you gives birth to what is fully alive within us.
Important work
I recently stumbled on a cassette tape labelled "To Lydia. From dad. Palestine trip." I stuck it in and began to listen to my dad's voice talking to me at three-and-a-half years old. He had just dropped me at my grandma's house for three weeks and was driving home along Lake Superior. He explained to me that my parents and six-month-old sister were going on a delegation to Palestine. They would visit Gaza and the West Bank, listening to people's stories who have deep disagreements about their histories and the land, and as a result were hurting one another. He explained that the people there were fighting and that they did not plan to go near the fighting, but that going meant there was a small possibility they could get hurt. That they could die. He said that they were going because they loved the people there and the children and you needed to take those risks sometimes when you love people. He said that he and my mom loved me with their whole hearts and that they always would no matter.
I don't think I ever heard that tape at three-and-a-half, but if anything had happened, I am sure glad I would have had it. Listening to my dad's gentle voice to my child self was a gift to hear just how loved I was (and am) and about what a call to discipleship and movement work really means. I have no doubt there are many out there who would call my parents crazy and I've been asked how much counselling I have had as a result… but I truly and completely give thanks and hope to model such bold and loving truth-telling to my own children. It is some of the most important work that we can do in this world.
Teach now
I hold Isaac tight as he lifts up his arms in response to the crowd as we chant "Hands up. Don't Shoot." This is the moment to begin telling Isaac the truth about his privilege in this world. To try to explain that not everyone is treated with love and dignity and respect by people, systems, powers, or principalities, but that that liberation is the work we are called to. I will tell him these truths over and over in hopes that he will carry with him a mindfulness of his privilege. I too carry with me the blindness, arrogance, and lies that come with my own privilege. As his mother and teacher in these moments, I can do no more than invite him onto this communal journey together of the constant work of self and system in dismantling white patriarchy and supremacy. Hidden beneath my words are delight and gratitude for all that Isaac is and will become and for the gift he brings to these spaces.
Lydia Wylie-Kellerman is a mother, writer, and activist in Detroit, Michigan. She works for Word and World: A People's School bridging the gap between the seminary, the sanctuary, the streets, and the soil. She is also the co-editor of the blog radicaldiscipleship.net and the Catholic Worker page editor for Geez.