Occupy Wall Street - Dissent at the feet of power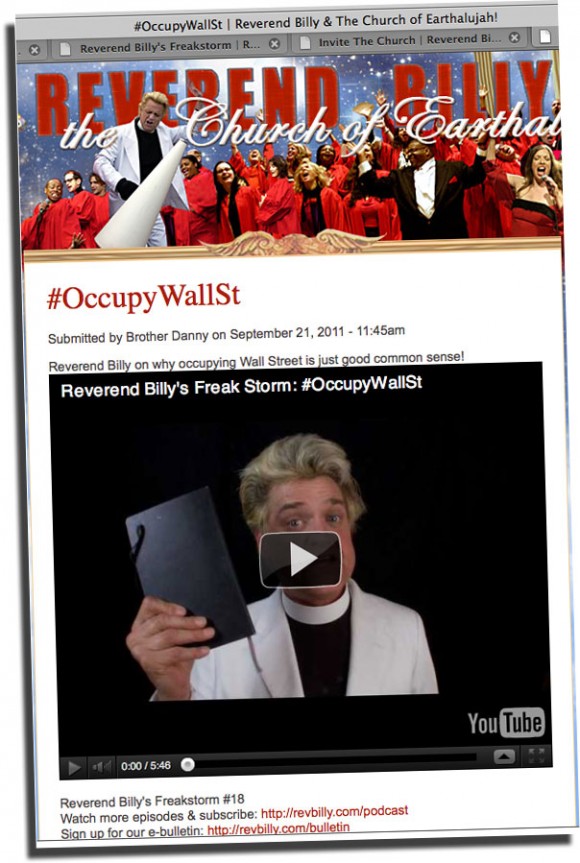 Because of what seems like a media blackout, I've been watching alternative media reports on the demonstrations outside Wall Street in New York.
I salute the activists who are sleeping night after night in a nearby park, standing up against greed and in favour of generosity; standing up against concentration of wealth and in favour of distribution of resources especially to the needy; standing up against unfair tax and trading benefits for corporations and in favour of financial accountability to actual people and workers in our communities and countries.
Some coverage I've been following:
From Reverend Billy & the Church of Earthalujah! [love it, I'm a member, are you?!], read his Memo to Wall Street – We Live Here. or his Occupy Wall Street rant and the rest of his Freakstorms.
On Al Jazeera here's a good mood shot (video) of the occupation of the park near Wall Street
On rabble.ca Michael Moore explains why Occupy Wall Street will only get bigger
On Nation of Change they have a handy answer sheet for questions around who is behind this demonstration?
On Democracy Now they've got good coverage, including A tour of the occupy wall street demo
Aiden Enns, editor Geez magazine