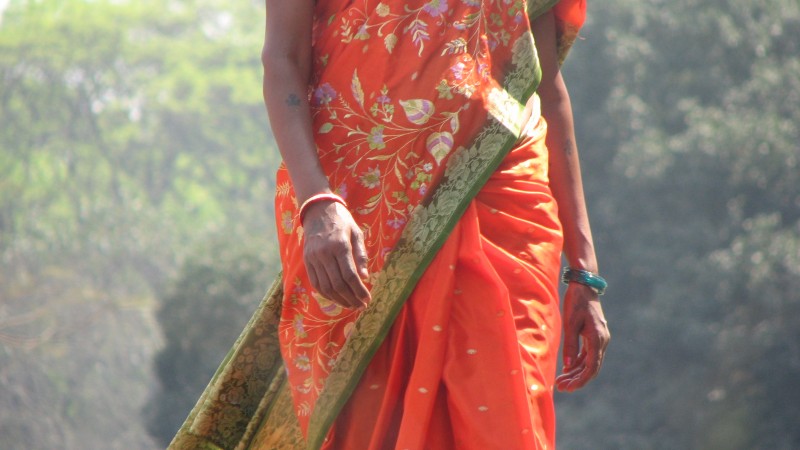 Employment is a tool for freedom. The unique power of a job empowers and gives dignity to women who have been exploited as commercial sex workers.
Sari Bari is a private limited company in Kolkata, India birthed out of a desire to give holistic freedom to women trapped in prostitution by poverty, cultural dynamics and blatant slavery. The work of the women's hands at Sari Bari is a beautiful reflection of the work that's happening in the hearts of each staff member. Women find freedom through literacy, math, nutrition, budgeting, mental health support and sewing. And, they eventually experience a deep transformation of the heart.
Sari Bari takes recycled saris and makes them into something new. Cast off saris become bags, scarves and blankets. To symbolize her freedom, each product is marked with the name of the woman who made it. Sari Bari staff members work as artists to create something beautiful and unique. They work to make products that are symbolic of the prophetic transformation that happens in the life of each woman as she finds dignity and hope.
Desperate need
There is a desperate need for dignifying jobs that provide training and benefits instead of the slave labour that produces so much of what we consume. Employment options make women less vulnerable to be tricked or trafficked into the sex trade. Women are the poorest of the world's poor and employment in a safe and well-paid job is not only a way out of poverty but provides a future for their children.
According to the UN, women represent 70 percent of the world's 1.3 billion people who live in poverty. In both the developing and developed world, the majority of women earn on average about three-fourths of the pay of males for the same work outside the agricultural sector. In most countries, women work approximately twice the unpaid time men do and one in every four households are now headed by a woman. These women give backbone to their families and communities, and employment opportunities provide them with a way out of poverty.
In Kolkata, there are four significant communities that function as businesses working for the cause of freedom through employment. These crazy communities are made up of New Zealanders, Dutch, Americans and Indians (I mean people from India, not Native Americans). We share customers and have the same cause – a heart for freedom of the captives. We employ, partner with and live alongside women in the sex trade. We fight for their freedom from the alleys that wend through the red-light areas to the sewing machines that put them one step closer to holistic freedom.
Make jute
Freeset Global makes jute bags and T-shirts. Sari Bari makes handmade quilts and bags from recycled saris. Connextions makes products out of recycled saris, and Love Calcutta Arts makes various handicrafts.
All told, several hundred women are employed through these businesses, which are all healthy. The employees or artisans are paid well, often with benefits, and the companies are making money to put back into their businesses and continue to broaden employment opportunities for women lured into the sex trade.
If you walk into the doors of Freeset Global and ask the women what it is they do, they will not tell you that they make bags or T-shirts; they will tell you that they are working for freedom. Similarly, if you sit with the women at Sari Bari, they will diligently be sewing away while telling you that what they have found is freedom and a life made new. Their "work" is for the cause of freedom in their own lives and for the future freedom of their friends and sisters who remain in the sex trade.
This is what work can do. This is what business can do. Work, employment and a paycheque are the tools that give women freedom from the sex trade. It also gives them dignity, self-respect and a sense of self worth.
Committed
We who serve through businesses in Kolkata are committed to community transformation and the transformation of women's lives through a safe and loving place to work. The women working full-time at Freeset, Sari Bari and Love Calcutta Arts have left the sex trade and are now putting their hands and hearts into the work of freedom for themselves and for their families.
Still many of them remain in their brothel rooms. They keep their rooms for many reasons: they have the safety of being known without rejection, they have no other place to go and by staying, they prevent a younger woman from taking their space in the brothel. As they remain, they make a silent protest against the atrocity of the trafficking of persons into the sex trade. Their presence signifies revolution, it signifies accountability with their sisters whom they work with at Sari Bari, Freeset and Love Calcutta Arts. It is a profound mission that only survivors of the sex trade can wholly offer among their sisters – hope for freedom.
Sarah Lance is the Word Made Flesh Asia regional coordinator and the director of Sari Bari.