Undercover at the Festival of Faith and Writing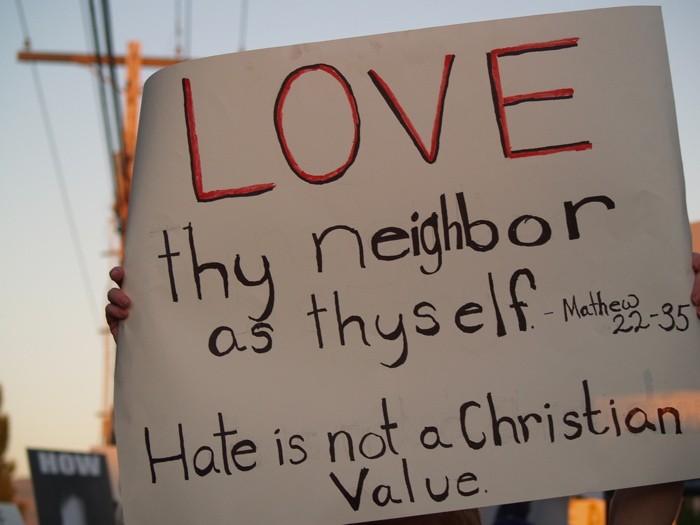 This April I went to the Festival of Faith and Writing at Calvin College in Grand Rapids, Michigan.
I thought I might be the only out gay man at this Christian writing conference, hosted by a Christian Reform college that recognizes homosexual orientation but bans gay relationships. I imagined I would just barely keep myself from wearing a rainbow armband in protest.
When I got there, though, I found I just wanted to get the training, hear the authors and talk to people. Pulling myself back inside the closet a bit, I looked around and blended in.
The conference was high quality, featuring good writers with strong literary backgrounds like Li-Young Lee, Jonathan Safran Foer and Kathyrn Erskine. The authors were comfortable with questions, doubts and trying new things. Some confessed to "meditation" or "hearing voices" of their characters. Some even talked about other faiths and religions – not without challenge, of course, of anything outside the evangelical mainstream.
I attended one session on writing about sex and sexuality. The discussion was about how we couldn't discuss these topics without getting embarrassed or shamed. I wanted to point out that even in that unrecorded session in a basement room, gays like me still couldn't talk about sexuality, but I feared being judged so I kept quiet.
That evening, I felt the need to do something. My impromptu plan to do some midnight postering of a poem I wrote in support of LGBT students at Calvin was thwarted by the librarian's careful watch over the public printer. I returned to my room, feeling powerless.
Two things brought me encouragement: Marilynne Robinson's keynote address was directed at conservatives. She railed at them for harbouring intolerance and for the pre-emptive-strike approach to foreign policy. She said Christians are spreading a lie that the world is against Christians. Robinson, who won a Pulitzer for a novel about a preacher, asked, how can everyone be against us? The "culture wars" exist only in our minds. She told us to stop being so afraid, to stop spreading fear. She did what I couldn't do with my poem. That night she was my hero.
The second thing that gave me confidence was meeting seven or eight publishers of new journals, all young people. They wanted gritty writing, and "you can use strong language too – because that's the way people speak." They were ok with stories by gay people. I was witnessing a little revolution quietly shifting the Christian magazine industry from under the thumb of the conservative Christian elite. For every Christianity Today there was a Relief. Even some of the major publishers like Image asked that the quality of the voice be as strong or stronger than the faith quotient. No rigorous dogma check. They wanted the struggle because the struggle was true.
Jerome Stueart writes memoir, fantasy and science fiction. He maintains a blog with gay Christian resources at talkingdog.wordpress.com. He lives in Whitehorse, Yukon, and works as the marketing director for the Yukon Arts Centre.