Sinner's Corner
Sinner's Corner: Litterer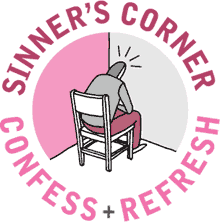 Sinner: Will Braun, Winnipeg, Manitoba (writer, father, former Geez editor)
Confession: Occasionally, if I end up with a bit of garbage in my hand while I'm strolling the neighbourhood, I just toss it on the ground wherever I happen to be – pretty much just for the hell of it. I don't do it often, I don't ditch anything bigger than a candy wrapper, and I try not to be seen doing it, but I am an unabashed
litterer.
Moral gymnastics: Some people see petty sidewalk litter as an environmental issue, but it doesn't cook the climate or poison waterways. It's just about bourgeois propriety.
Plus, the neighbourhood I live in is already a sort of decentralized landfill, so why should I think I am better or more sophisticated than my garbage-spewing neighbours? Where I live, "the least of these" – at least most of them – only use trash cans if they're standing right in front of one. Who am I to judge?
As the conscientious neighbourhood clean-up crew picks up used condoms and syringes (while harbouring judgmental thoughts about their neighbours), I chat idly with my not-so-conscientious neighbours and occasionally add to the "mess." Littering is my act of solidarity.
My son caught on to this at the innocent age of 3, nonchalantly pitching trash on the already tattered boulevard. I think he's gonna be a saint.
Penance: Well, the fact that you try not to be seen doing it means that you're not entirely unabashed. You're a little abashed. Which is what gives me hope for your transformation, Will.
I'd like you to start by instructing your boy to litter in front of the earnest neighbourhood clean-up crew. If he can't come up with a condom or syringe, a candy wrapper will do. After they've seen him do it under your watchful gaze, wait a few minutes so the shame – and their icy glares – can really soak in to your deep places.
If the dirty looks don't bother you, you may, indeed, be beyond redemption. (These are words I've never yet had to say to a penitent!) But if there is a shred of remorse pulsing in your recalcitrant flesh, send the do-gooders home while you and your wayward boy finish cleaning up the neighbourhood. Repeat as necessary.
Margot Starbuck, Confessions Editor
Send your confession to Margot at sins [at] geezmagazine [dot] org. Whether you regularly give motorists the finger when cycling, prefer Guns N' Roses to the musicians at church, or get lured in by the smell of deep-fried indulgence whenever you're near McDonald's, absolution is at hand.