Still Here: A Passage from the Queer Lectionary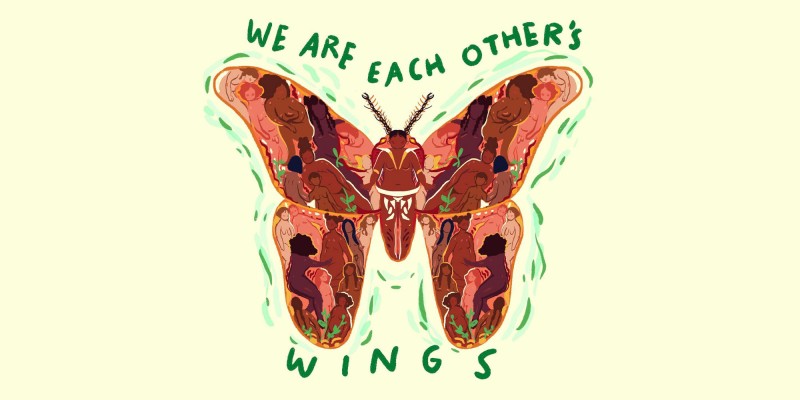 The Spirit of Miz Patty-O Furniture draws me into a valley full of dry bones.
Miz Patty-O struts among the bones, still donning their grass green beehive, pink flamingo crown, and lawn chair props they wore on stage before. Before the diagnosis. Before the pneumocystis. Before the AIDS that stripped flesh from bone. Bone to ash.
The valley is strewn with thousands of parched bones, scrutinized by an oblivious sun. This valley is known by many names: Club Q, Pulse Club, Ward 5B, The
Upstairs Lounge.
Come here, Child of the Most Fabulous, Miz Patty-O's words whoosh like a powerful wind blowing back a curtain. They snap their fingers at me. Go water these bones with your tears. And bring your people.
I have no tears left, and there is no one here but me, trails from my mouth, just as a queer multitude accordions out behind me. Shaved heads and wigs, heavy boots and spiked heels, propel us out into the valley like catwalking down a runway. DJ beats pulsing as we move among the bones.
Miz Patty-O's raspy voice sings out, Prophesy. Prophesy to these bones. Make these bones live.
A dam unleashes out from us, water streaming down our faces, soaking the dry bones. Drenching the valley. Tears causing rhythmic beats to thump up from the ground.
Thump, thump, thump, up. Thump, thump, thump, up. Bones rattling, reassembling. Sinews returning. Fleshy bodies regenerating and rising up from the valley floor. Reemerging faces of Sylvia and Marsha P., Sylvester, and Christopher Lee. Audre, Bobbie Jean, Harvey, Joe Rose, Leslie, and Riven. Thousands standing up like queer monuments in the valley. Clad in swirls of black, purple, magenta, and clown fish orange. Mixed ruffles, leather, plaids, paisleys, denim, and gold lamé. Costumes morphing, shapeshifting to remixed jams. Flesh begins to tap, to snap, to bend, to dip, swivel in full rhythm, then full sweat to the dance beats. The whole valley vibrating, tectonic plates shifting, groaning, lush, and untamed.
Miz Patty-O, hand on sequined hip, belts out, Prophesy with your breath.
Buoyed by bass rhythms, a chorus of ancestors calls out in response: Receive this risen army of queer ancestors. To our trans and non-binary descendants, take our bones as armor. Carry our flint hearts as protection in your pockets. Adorn your ears and tongues with us.
Remember. We are. Still here. Always. Becoming.
Carol Robison is a queer white elder, ritualist, and altarist, working at the intersection of ancestral lineage healing, genealogy, and cultural repair. Carol lives on Ohlone land, also known as Oakland, California.