My Grandma's Voice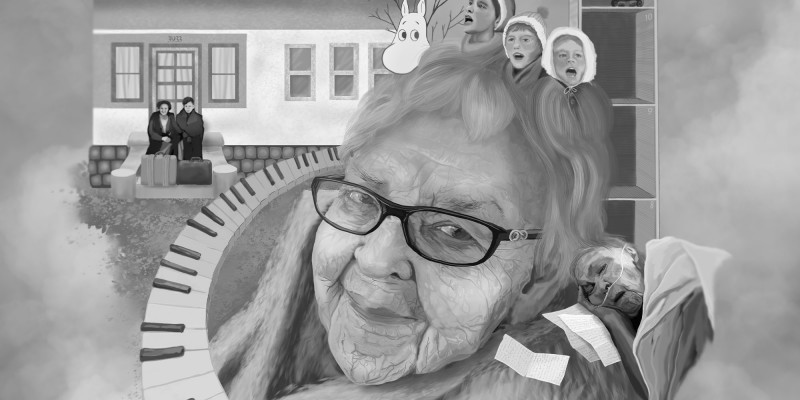 Grandma's teachers would slap a ruler across her mouth if she was ever caught whispering in anything but English.
When Grandma started school, she only spoke Norwegian. They literally slapped her first words out of her mouth.
Many years before I knew that story, I was taking Norwegian college courses and I remember coming to her excited about learning the "mother tongue." I was attempting to connect with my roots and to Grandma in a deeper way. I expected her to be excited for me. I thought she would be interested in conversation, in helping me try out the new words in my mouth. She wasn't.
Until I knew more of her story, I simply brushed my grandmother's lack of enthusiasm off as her forgetting – she didn't want to talk Norwegian with me because she didn't remember the language. What I never imagined as a young college student was that maybe she didn't remember because the language, a link to family and a homeland only two generations past, had been forcibly removed from her lips and replaced with the only way she was allowed to speak: "white."
A decade later, after a series of falls and as depression slowly swallowed her, she was forced to leave her home of 64 years. For months after, she sat in anguished silence. I realize now that it was not just words shut up inside of her it was ancestors. They too had lost their voice, culture, stories, and songs.
Feeling my way into my grandmother's story means trans-generational healing. Embodying that healing in my own life makes possible ancestral liberation and a future beyond whiteness. It means solidarity with those of Grandma's generation who endured Native American boarding schools and with immigrant peoples of today who are also forced to forsake their languages. It means recovering the languages of my ancestors for collective transformation.
Craig Simenson is of Norse, Celtic, and Germanic peoples. He grew up on Ho-Chunk, Kickapoo, and Meskwaki homelands in Wisconsin. He lives with his wife and daughters (one named after Grandma) in Minneapolis, Minnesota.