Review
My Bright Abyss: Meditation of a Modern Believer
My Bright Abyss: Meditation of a Modern Believer
by Christian Wiman Farrar
(Straus and Giroux, 2013)
A book review by Kurt Armstrong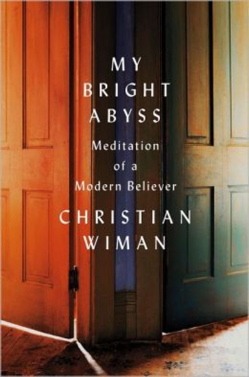 The poet Christian Wiman grew up in a small town in West Texas of which he says, "to call the place predominantly Christian is like calling the Sahara predominantly sand." He inherited a peculiar brand of conservative evangelicalism familiar to many of us who grew up immersed in Christian belief: "I never met an actual unbeliever until my first day of college." But being a student away from home gave Wiman the critical perspective to recognize just how odd – and unfashionable – his religious roots really were. He soon traded religion for poetry. For 20 years, he thrived as a poet, publishing in the most prestigious journals and magazines and teaching at various universities. Eventually, he became the editor of the preeminent American magazine of verse, Poetry.
And then, in quick succession, Wiman quit writing poetry, fell in love, learned that he had incurable cancer and started going to church again. My Bright Abyss is an aphoristic rumination on the seven years since the time when his "life broke open." Wiman isn't the least bit sentimental or nostalgic about the deeply Christian faith that provides the bedrock for his meditation. "There is no way to 'return to the faith of your childhood'," he says. "Not unless you've just awoken from a decades-long and absolutely literal coma." In My Bright Abyss, the poet opts for prose – he explains that "to give my inchoate feelings of faith some definite form . . . I began writing prose because I needed some firm ground from which to move forward."
I can think of only a handful of writers I've read who have diagnosed the contemporary spiritual condition as poignantly as Wiman. But he doesn't stop at "reading the times." Wiman weaves an intensely personal account of the hard work of maintaining belief in the midst of a culture determined to identify itself as secular. "The turn toward God has not lessened my anxieties," he admits. "And I find myself continually falling back into wounds, wishes, terrors I thought I had risen beyond . . . I never truly felt the pain of unbelief until I began to believe."
The poet is always wide-eyed and available to the world, but Wiman has the kind of gaze that Flannery O'Connor says is peculiar to the Catholic writer: their seeing continues deep beneath the surface of what all of us can plainly see. Contemplating mortality – "when death leans over to sniff you" – shapes one of the interpretive lenses Wiman uses, but he's never whiny or self indulgent, and I think it's genuine love that saves both Wiman and his book from bogging down in self-pity. "Human love catalyzes the love of Christ," he says. "I did not know what love was until I encountered one that kept opening and opening and opening … Life tears us apart, but through these wounds, if we have tended them, love may enter us."
I am a bit tone-deaf to most serious poetry, but Wiman's prose soars. It is breathtakingly beautiful and astonishing in its wisdom. My Bright Abyss is an instant classic of serious Christian spirituality. I can't stop raving about it. I read quite a few books every year, many of which are quite good, a handful excellent. Having read only one of Wiman's books, I won't call him my favourite writer – not yet, at least. But My Bright Abyss is, hands down, the best book I've read in more than a decade.