I Like It When You're Loud: Mating Choruses, Erotic Voice, and Embodied Listening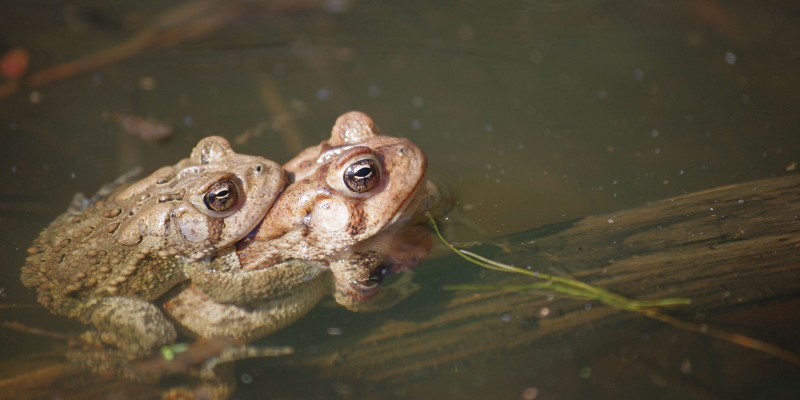 It is chorusing season in the Atlantic Forest, and amphibian congregants are gathered under full moon. Enter the goddess of fertility – the lights drop – voices coalesce in erotic refrain.
I am learning the joy of hip waders, swamp testing my thighs as I nervously shuffle my headphones to check the levels on my recorder. Ears naked now and the hammer frogs have started again, engorged by the searing ostinati of their making. Between the three microphones and the flashlight I'm juggling, my sense of sight hardly seems to be pulling its weight. I switch off the light, clasp my gear over darkened water, and close my eyes while the scientists who have brought me here busy themselves with the mechanics of transduction: ears converting soundwaves into electricity – brains converting electricity into meaning. I'm listening too, but signification emerges anachronistically. I accidentally wonder what a sound so big might taste like. Hastily scanning that no human can see me, I stick out my tongue, and hit record. Of course I know that microphones aren't designed to pick up taste, but then again, listening is no more the undertaking of ears than sex is the solitary labour of genitals. And isn't it sex itself we hear now, drumming through this air over turgid water, or is a chorus just a beckoning? I gulp back warm air and pretend alongside my technologies in the potentials of capture.
When experimental composer Pauline Oliveros taught people to listen deeply, she embraced the queer, the fanciful, and the speculative dimensions that animate perceptual life. Oliveros found voice nestled in the ear just as she sought listening in the vibrations of bodies. I imagine these are the kinds of transfusions we might lean into when we think about voice as an interspecies phenomenon. The places where species meet, what Donna Haraway calls "contact zones," are shifting assemblages of senses, evolutionary emergence, and technologies, birthing new worlds as estranged subjects become entangled in co-constituting and often asymmetrical power relations. My microphone, my sensing body, froggy voices, the swamp . . . they amplify in consort both what is disparate and what is shared. And spellbound as I am by the frogs' alterity, I – like these frogs – am also basically a singer in a sexual body. I wonder as I listen how embracing the eroticism of vocalization might lead us into deeper connection with our sexual selves, sexual others, and our sexual planet. I'm holding onto Susan Sontag's assertion that it is less an aesthetics and more an erotics of art that might guide us into affective encounter. Voice is springing up as a movable fabric of relation between listeners and sounders – flesh into information into flesh. What a titillating feedback loop.
For hours we have been searching in vain for Adenomera marmorata. When we finally find him, the team leader asks if I might make a recording. Pleased for once to be of some empiric use, I quickly get to work like a good citizen scientist. When I look up from my microphone, I notice the scientist beside me, temporarily relieved of her duties, swaying to the song, lost in rhythm. She must be remembering the magic of frogs.
Bioacoustics, that is, the study of animal communication through sound, necessarily relies on listening as a tool of relation. A result of bioacoustic work is the aggregation of hours and hours of recorded nonhuman voice. The acts both of recording and of analyzing these sounds brings researchers into deep levels of exposure and attention to these voices in live and recorded states. Sound scholar Dominic Pettman suggests that disembodied, or acousmatic voice – that is, "the voice with no obvious, visible source – is all the more enchanting and all-enveloping," with increased erotic tendencies.
I should be helping the team, but my mind is wandering towards Pettman's words while I stand back with my microphones as the field workers search doggedly for signalling frog bodies. I realize that I have secretly already accepted these voices as acousmatic – implicitly received as part of the magic of frogs this cyclical composition and recomposition of the boundaries of near-invisible, edible bodies into choirs of staggering volume. Frogs get to be big and small at the same time. Their voices both promulgate expansive territories and initiate the smallest intimate encounter: scales and states nesting themselves within one another, worlds without end. Here is the eroticism of group vocalization – the subsumption.
I too found my voice in the chorus. Before I learned to fill a hall with my own wispy vibrato there was the rapture of choir. I believe there exists a spell, if an ensemble is listening with the whole of their voices, where the loop between sounding and listening becomes so tight it buzzes where it touches. In this contact zone I have sensed as if my voice were escaping the mouth of another's body, the channels of my own instrument relinquished such that my neighbour's voice might resonate in me. Call it choral blend, but I contend that church choir isn't that different than a mating chorus if you think in terms of the reorganizational and erotic force of voice: rebinding and redistributing potentials of frail bodily units. My breath leaks into my recording as I listen to it weave with the Dendropsophus minutus advertisement call inside my headphone monitors. Frog breath is far less conspicuous. Be like a frog. Inhale through your skin.
Of course, I'm not the first to consider frogs while contemplating the erotic. The cultural image of kissing a frog, transforming it from a nonobject of abjection into an object of sexual desire shows fictionally what various supreme court cases between construction companies, landowners, and species-at-risk policies in Longueil, La Prairie, and New Orleans (to name a few!) have already shown us: that the vertebrates most threatened by climate change are better off displaced by or fully transformed into humans. Or consider how frogs possess the power of fertility in both Greek and ancient Egyptian mythology for their proximity to low lying water. Go outside, and you can hear for yourself the fertility and barrenness of the wetlands both near and below you. Listen also for the ghosts: fresh and long extinct voices under fresh and long dry cement. Listen because you too have a mating cry. Listen because capitalism hates eroticism that it can't commodify.
Remember that amplitude is adaptive. As late-stage capitalism rages, demanding disembodiment in our sensual and sexual lives, subsisting on human exceptionalism, and flattening the vibrancy of voice into a stale monotone, chorusing season turns up the volume for the sake of survival itself. Put your ear to a swamp and listen: there is a high-drama, evolutionary sex opera raging. Here's the lyrical gist: "I like it when you're loud."
Jami Reimer is a chorister, arts educator, and overstimulated grad student at the School for Contemporary Arts at Simon Fraser University. She is from Winnipeg, Manitoba on Treaty 1 territory, and currently resides on the unceded territories of the xʷməθkʷəy̓əm (Musqueam), Sḵwx̱wú7mesh (Squamish), and Sel̓íl̓witulh (Tsleil-Waututh) Nations in so-called Vancouver.