A Letter to the Ones They Call Fast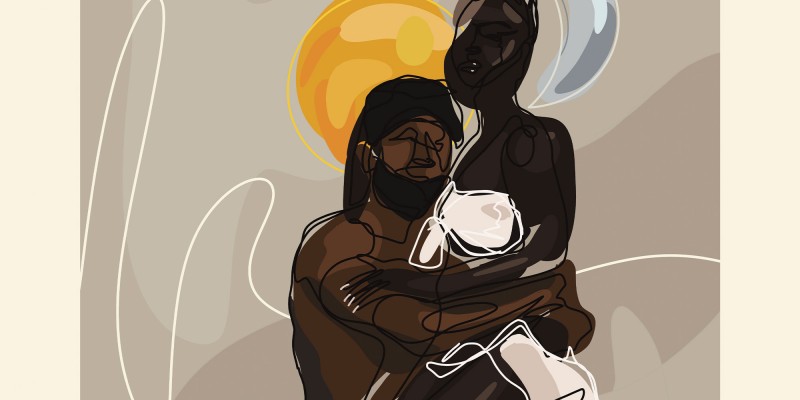 Beloved,
I know what they called you.
They called you fast.
Whore.
Hoe.
Slut.
Tramp.
Hussy.
Too grown.
Hot between the legs.
They said terrible things about you and your body.
They were church mothers, grandmothers, maybe even your mother. They were aunts, cousins, sisters, friends. They took one look at you and labelled you before you even knew who you were. And the sting of that naming has left a mark on your soul.
I'm writing you this letter to say I'm sorry that you had to experience this cruelty. I'm sorry that we live in a world that chooses to gatekeep patriarchy and the respectability politics of Black church life. I'm sorry that those gatekeepers are often women, too afraid or unwilling to protect other women. As Jennifer Bailey writes in To My Beloveds: Letters on Faith, Race, Loss, and Radical Hope, "[Church women's] own unaddressed trauma and complicity in the status quo led to opinions that were loud and wrong."
I, too, was labelled grown before I had any concept of what that meant. My hips were too wide and my butt was too big by the age of 10. The struggle to find clothes that fit my ever-growing curves was a constant source of stress. Charlotte Russe, Fashion Bug, and DEB failed to keep up. My only option was to shop in the "misses" section of department stores. As a preteen, trying to find something that was "cool" and "appropriate" was like searching for a piece of candy in your grandma's purse that didn't have lint on it – nearly impossible.
Others have had that same experience. Jennifer Bailey recalled, "[They] check the length of my hem, comment on the tightness of my blouse, and insist upon my wearing a lap cloth for service – lest I unwittingly lead one of the men into a state of temptation." Young Black girls with growing bodies are quickly marked as unacceptable and in need of taming. The adultification of little Black girls has caused Black girlhood to be conflated with womanhood. The effects of this misconception have been felt for generations.
I imagine you are wondering how we got here. Trauma is the answer. White enslavers used and abused Black women's bodies for their personal pleasure. They labelled us as sexual deviants and Jezebels that provoked them. Tamura A. Lomax writes in Jezebel Unhinged: Loosing the Black Female Body in Religion and Culture, "Unlike white women, enslaved black women and girls did not have the privilege of feigning purity or a decreased sexual drive in response to heteropatriarchal fragility." We had no bodily agency to resist or deny sexual exploitation by white men, as we were not seen as whole humans in need of protection.
Once we were free, we adopted the Victorian cult of true womanhood – to be seen as a lady instead of property. That survival mechanism morphed into purity culture fueled by sermons on chastity and virtue. But beloved, we are no longer simply trying to survive. We are thriving.
I'm here to tell you something different.
I'm here to tell you that you are good, sacred, and whole, just as you are. I'm here to tell you that you are loved by your creator. Your soft skin, plump curves, luscious lips, and perfected edges are celebrated. You may have blossomed before you even knew you were meant to bloom, but there is nothing to be ashamed of.
If your Sunday best draws attention like your freakum dress, give them a show.
If you have hips like a goddess, let them worship you.
If you have to jump to put jeans on, at least you got your cardio in for the day.
And if you have legs for days, walk in like you own the place.
Because you do.
You are too full of magic to be reduced to a label of lasciviousness.
In Toni Morrison's Beloved, Baby Suggs tells us, "Here in this here place, we flesh; flesh that weeps, laughs; flesh that dances on bare feet in grass. Love it. Love it hard. Yonder they do not love your flesh. They despise it. You got to love it. This is flesh I'm talking about here. Flesh that needs to be loved."
Love yourself, Beloved. Love your flesh, smile, belly button, knees, and ankles.
Love yourself because you are a reflection of the Divine. You can't love your Divine fully if you don't love yourself.
Love yourself out loud. Do not let others tell you how to move through this world. Only you can make that decision. You were divinely created, just as you are, and deserve to be your most authentic self.
Buy the outfit, wear the shoes, take an extra trip to Sephora if you want to.
No one is ever going to love you and your body more than you do.
Love on yourself.
Pleasure is your birthright. I implore you to honour your sexual agency. You ​​have the autonomy to choose when and how you engage your sexuality. It can be today, next year, or never. You can pleasure yourself. You can have sex with zero people, one person, or 100. As long as it is consensual, safe, and pleasurable, it is well with the Divine.
Beloved, reclaim yourself. While you cannot erase the scars from the traumatic names they called you, reclaim your body and call yourself life-giving.
Good.
Whole.
Sacred.
I am journeying alongside you. May we find pleasure every step of the way.
I love you. All of you.
Ristina Gooden (she/her) is a womanist theologian interested in the intersection of faith, race, sexuality, and pop culture. She lives in Nashville, Tennessee.