Hey, Jackie Chan!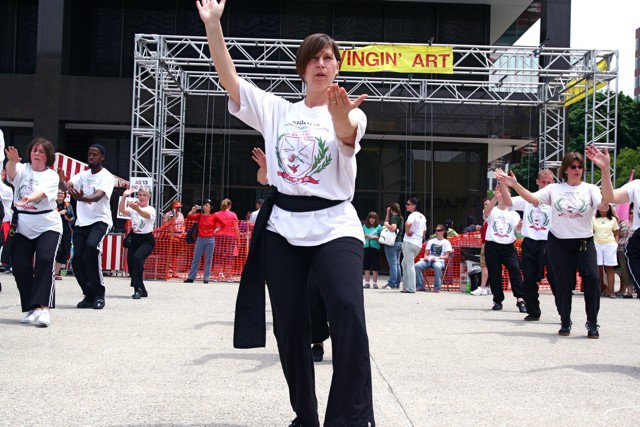 I grew up half Chinese in rural Indiana.
I would occasionally spot folks of some Asian variety at athletic and academic competitions, but my family never shared a school system with anyone of noticeable Asian descent. Without many real Asians around, it seemed my classmates' understanding of Asian culture came mostly from popular media, particularly American-made martial-arts movies.
I endured the other kids calling me Jackie Chan through elementary and junior high school. At gym and recess, they wanted me to perform karate moves. While playing a game in seventh grade, a classmate asked why I was so slow for a Chinese. All I could muster in response was a blank stare.
Jackie Chan became my nemesis. To the relief of my dogmatically pacifist father, I had no interest in learning a martial art. The demand for karate kicks and the shouts of "Hey, Jackie Chan!" finally died down in high school.

Sometime after college, a friend invited me to join her Tai Chi group. I didn't expect much that afternoon, but since then I have been practising daily for several years. It looks relaxing, and it is. It looks peaceful, and it is. I'm sleeping better and needing less sleep. I feel less judgmental of others after practising. Tai Chi also offers surprising mental and physical challenges. I'm a smaller guy and I have really appreciated learning to use my body more efficiently and powerfully. Common tasks like opening doors and shovelling manure become opportunities to dance, and to see how extending my knee or lowering my hip affects the work. Tai Chi has changed my interaction with the world.
Once an avoider of anything related to martial arts, I'm now an evangelist for one. I still don't know any good karate moves, but now I look back on the Jackie Chan years with a smile. Sometimes we overreact to the stereotypes thrust upon us and miss chances to enrich life. Being free in mind and spirit allows me to convert the blank stare to a heartfelt laugh.
Josh Medlin studies shiatsu in the Chicago area. He hopes to help start a Catholic Worker-style community in Indiana next year.