Geez Newsletter – September 2015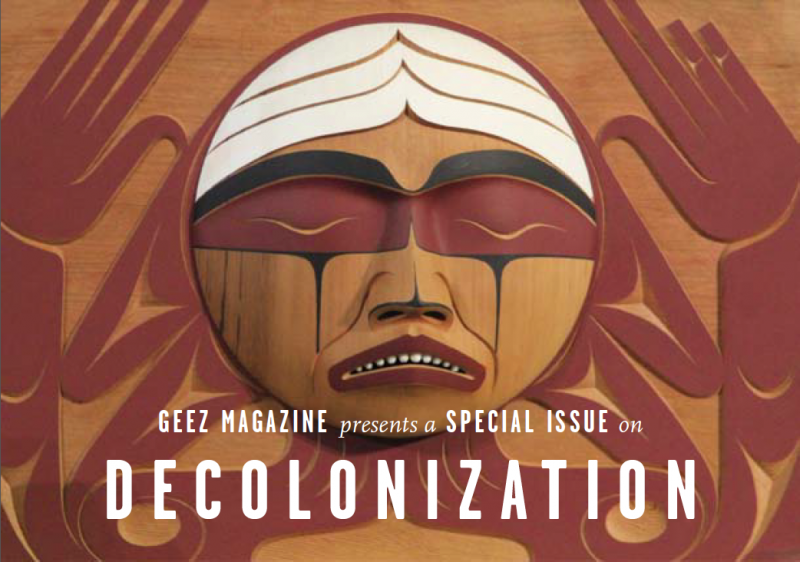 Dear Readers,
We're excited to bring you our long-awaited issue on Decolonization. We hope this issue sparks understanding, discussion, and action as we work towards reconciliation between Settlers and First Nations peoples in Canada and the U.S.
We're featuring the voices of several Indigenous writers and activists including Niigaanwewidam James Sinclair, Stan McKay, Sylvia McAdam, and Randy Woodley. We're also covering a range of topics, like Treaties, reclaiming Indigenous language, and decolonizing Christian theology.
Many, many thanks to our guest editors, Leah Gazan and Steve Heinrichs, for working with us to make this issue as strong as possible. You can read their editorial on our website, in which they talk about what decolonization means to them, and what next steps we can take towards reconciliation.
We'd also like to hear from you! Let us know what you think of this issue by sending us an email to editor@geezmagazine.org, or a letter to 400 Edmonton Street, Winnipeg MB, R3B 2M2, Canada.
Discounts available
This is a great issue to discuss in Sunday school or church groups, and some people have been asking us about discounts for large orders. Order 10 or more issues and we'll give you 20 percent off, just give us a call at 204-772-9610 or email subscriptions@geezmagazine.org.
Art of Resistance and Reconciliation
Edgar Heap of Birds will be speaking about his art and practice with Geez guest editor Leah Gazan and Jeff Friesen on September 16 at the Neechi Commons in Winnipeg. Heap of Birds is an Indigenous artist who uses his art to challenge colonial amnesia and settler politics. You can also find his work in the Decolonization issue of Geez magazine.
When: September 16, 2015, 7-9 p.m.
Where: Neechi Commons in Winnipeg, 865 Main Street
All are welcome to attend. Admission is free, but donations will be taken to support the families of Murdered and Missing Indigenous Women. We'll be there to promote the Fall issue, so stop by and say hello!
Office update
We moved over the summer! We've changed offices in Knox United Church to accommodate a new group who wanted to use the entire second floor Carter Lounge space, out of which we've been working for the last five years. Don't worry, our mailing address hasn't changed.
Support the cause
If you're thinking of renewing your subscription, now is a good time to become a Geez monthly donor – your Geez subscription will never run out as long as you're a donor, and you'll help sustain this project of contemplative cultural resistance.
Here are some other ways you can support Geez:
Subscribe to Geez magazine for yourself (if you haven't already)
Subscribe to Geez magazine as a gift for a friend
Make a one-time donation
Tell your friends about Geez and help spread the word
Thank you everyone for your on-going support of this important work of faith-inspired social justice, art, and activism. We couldn't do it without you.
On behalf of the Geez team,
Kyla Neufeld
Managing Editor