Forged in Fire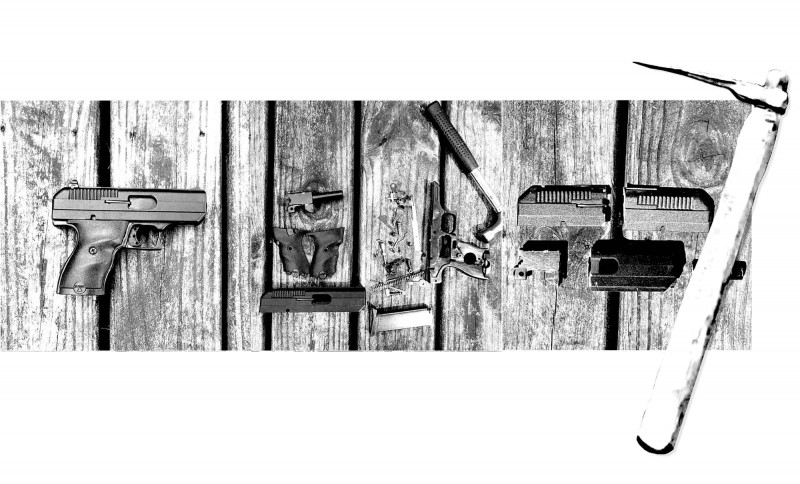 And they shall beat their swords into plowshares . . . and learn war no more.
The audio is a transcript of the written piece recorded by Corey Simon for Geez Out Loud.

My arm aches.
It's the second day at the forge, and the sound of hammers and the fumes of coal smoke surround me as my classmates work on their own projects. I pull out what I've prepared for today: the barrel of my 9mm handgun, inexpertly cut from the rest of the gun which now sits useless at home.
BANG BANG BANG.
Each hit echoes the sound the handgun once made in its former life, before angle grinder and screwdriver had their way, beginning the process of renewal. Soon this scrap of metal, once manufactured in order to take life, is now converted into something handmade, designed to grow and produce: a garden tool.
And they shall beat their swords into plowshares . . . and learn war no more.
Swords are in short supply these days, but guns are plentiful. In the year and a half since this first forgery class, I've been converting gun after gun into garden tool in my home blacksmithing space, seeing things once made to be tools of death transformed into servants of life. It's true: these tools are nowhere near as polished as the factory-produced guns they once were, nor are they as clean as the garden tools you could pick up at any hardware store. But that's not the point.
In a world of perfectly polished and emotionless tools birthed from unfeeling beasts, hatching their children in factories and warehouses, sending them into the world to serve and sew death, here are things which require calloused hands and sweaty brows. Here are things rugged and hand-forged, things reflecting the very humanity that crafted it, perfect in their imperfections.
Corey Simon is a United Methodist pastor living in Michigan with his wife and pets. He practices blacksmithing as therapy.