Ballad of Eric Garner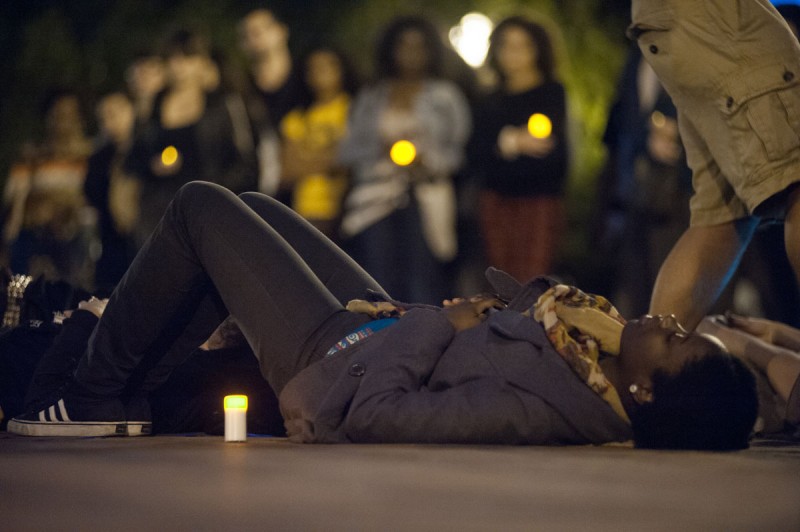 To the tune of U.S. traditional folk song "900 Miles"
Out in famous New York City
Famous for its lack of pity
That's where a man named
Eric Garner used to live
He was big and Black and proud
Had friends and family all around
And despite so many hassles with police
Garner's neighbors knew him as a man of peace
Eric Garner was in town
So the cops all gathered round
They said he tried to sell some untaxed cigarettes
Garner said it wasn't true
But he broke a bigger rule
In a land where if you're Black then you're a threat
The cops showed everyone Black lives don't matter yet
Well he told the cops I'm tired, I'm so tired of being harassed
It was a brave thing for a poor Black man to say
And before he died he cried I can't breathe eleven times
Pantaleo grabbed his neck and pulled him down
The other cops helped smash his face into the ground_
After Garner stopped resisting, well the cops just stood there watching
Then they picked his pockets and they rolled him on his side
Several minutes slowly passed
EMTs they came at last
No CPR, they said he still was breathing then
An hour later Garner'd never breathe again
And the medical report said it was a homicide
Said they killed him when they wouldn't let him breathe
But there was no murder charge, seems it was never in the cards
Despite the testimony and the video
The judge and jury said the cops were free to go
Yeah Eric Garner couldn't breathe with a system round his neck
That kills a Black man just for holding cigarettes
Home of the brave, land of the free
What's this mean for you and me?
It's all a sham if Black folks' lives don't matter yet
If you're not white or rich then you don't matter yet
Some kind of freedom if the people here can't breathe.
"And the concrete, it buckles, and the grass grows through." – Malvina Reynolds
I have yet to hear of or experience a prolonged resistance movement that took to the streets without its own songs. When we are resisting injustice together, words are not enough. The whole body – personal and collective – needs to feel the truth and express it with one voice. Singing together makes us whole, if only for a few minutes. And sometimes, as Paul and Silas discovered, that's enough time for the prison walls to collapse.
Resistance music connects us with the history of our own and others' struggles. We sing with the cloud of witnesses. They sing through us. Almost always, movements are strengthened by the songs and chants of earlier generations, often altered to speak to the needs of the moment.
Cultures of resistance are built on collective knowledge and memory. No story, no struggle. Song remains one of the most powerful means of keeping memory alive and burning hot.
Music testifies. It keeps us in the fight. It keeps us aware of why we are fighting. It makes us brave.
And where there is no music, there is also no dancing. As Emma Goldman puts it, "If I can't dance, it's not my revolution." Dancing keeps revolution from stagnating and devolving into a new/old kind of "law and order." Whenever and wherever the collective music and dancing stop, all manner of potentially totalitarian new plans begin to settle, first like dust. Then like snow. Then like concrete.
Without music on the front lines, we've already lost. As long as we are singing together, we are still living and breathing together. Our bodies push out the words, which we hear in a chorus of energy that rolls like thunder and settles back on us. And the breath we suck in after each line is a bellows: fanning the fires of rage and hope, sadness and memory, courage and determination that we need to keep us going.
Seth Martin is a roots musician, writer, and activist from the Pacific Northwest (U.S.), currently living and working in Korea.
Photo credit: Neon Tommy, flickr.com/neontommy, "Vigil for Michael Brown and Eric Garner at University of Southern California," Los Angeles, California, December 4, 2014.