Invitation to informal launch of Geez issue on utopia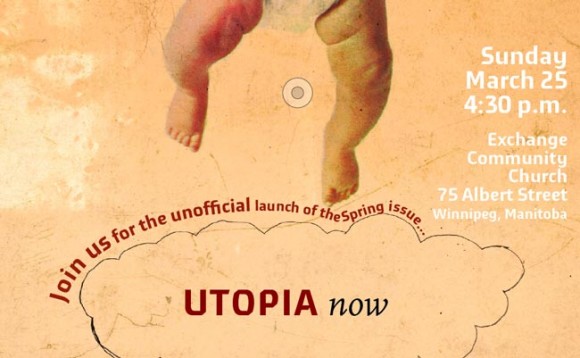 [See the full poster as a PDF here:G25_poster.pdf]
We're inviting folks around Winnipeg this weekend to join us this Sunday afternoon for an unofficial launch of the Spring 2012 issue, called, Utopia now.
Sunday, March 25 at 4:30 p.m.
Exchange Community Church
75 Albert Street in Winnipeg (2nd floor)
(1/2 block south of Mondragon Cafe and Bookstore)
You'll meet some contributors and hear editors talk about what went in and what didn't make the cut. It's time to revamp our eschatology, to reclaim the prophetic notion of apocalypse and get down to business and love this world like there's no other. Is that the answer? Come discuss with editors and contributors.
Note: this event is part of a low-key church service; there'll be no sermon or hymns, but there will be a no-obligation invitation for communion. The facility is not wheelchair accessible.
Hope to see you there!
Aiden Enns
Publisher, Geez magazine
e: aiden[at]geezmagazine[dot]org
p: 204.942.1058
w: www.geezmagazine.org