Geez gets new publishing team, in Detroit!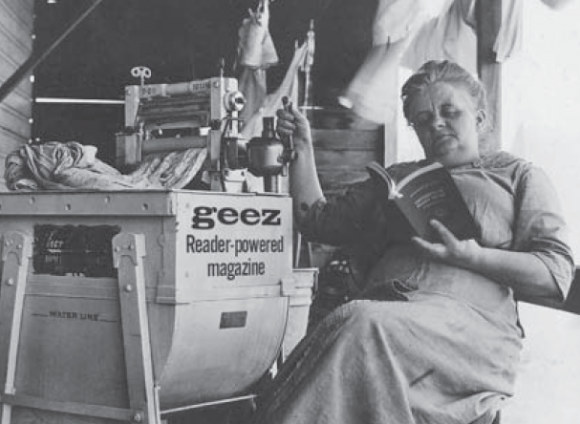 Dear readers of Geez magazine,
This letter signals an end and a new beginning. After 13 years of publishing Geez magazine in Winnipeg, Manitoba, I, as the current editor and one of the founders, am phasing out of leadership.
Over the next several months, and over the course of two transitional issues, the Winnipeg board of directors will dissolve, and operations will resume anew with fresh energy south of the Canada-U.S. border in Detroit.
On behalf of the board of directors, I am so pleased to present the new publishing team, with Lydia Wylie-Kellerman as the new editor. She is a long-time Geez contributor, editor of our Catholic Worker section, and the co-editor of RadicalDiscipleship.net, a daily online journal of radical Christian faith and social justice activism. See her inaugural announcement below and her introduction to the others on the team.
Still vital
The mission and mandate of Geez magazine seems just as vital today as it was when we started back in 2005. The expression of faith, especially among Christians in the United States, is in dire need of words and actions that subvert manifestations of white supremacy and expose the hostility of a fortress mentality. Inclusivity, compassion, hospitality, peace, and reconciliation—these impulses need articulation and celebration, especially among people at the fringes of faith.
After a year of struggling to find a suitable team to carry on this project with fresh relevance, I'm so delighted there is both interest and enthusiasm among our friends in Detroit.
And now, a few words from the new editor (see below).
Sincerely, and on behalf of the board of Geez Press Inc.,
Aiden Enns
Winnipeg, Manitoba
Dear seekers of justice and spinners of stories,
"Know your history. Walk it. Breath it. Listen to stories. Let the listening and retelling become resistance." These were the first words I wrote for Geez magazine more than five years ago.
I believe in the transformational power of words on paper. Their ability to crawl into our hearts and change us. Their way of travelling between generations holding us steady and moving us down the road toward justice. Their capacity for building community, delighting in beauty, and crying out for a world made new.
So, it is with a heart filled with joy and gratitude that I step into a new role as the editor of Geez magazine and begin the transition of the publication here to Detroit.
New team
It is a gift to introduce the team that will take on this work alongside me—Lucia Wylie-Eggert, Kateri Boucher, and Em Jacoby. These are three of my favorite human beings whose skills, analysis, and commitment to justice will be a blessing to the magazine. Together they can create beauty on the page, turn stranger to friend and subscriber, and whip a budget into shape—all while they plant gardens, protest in the streets, and care for/raise children. When the work begins, we will collectively have seven children under the age of seven. There will be crying babies at the desks and crayons littering the floor, which we choose to claim as a gift that will nourish the pages.
It is a big transition to move from Winnipeg, Manitoba, to Detroit, Michigan. We want to honor Geez's Canadian roots and the beautiful work Aiden Enns has done as editor as we journey into the belly of the U.S. empire beast.
For each of us, our own spiritualities and cries for justice have been formed here in Detroit. It is a place where the shadows of capitalism, racism, militarism, and environmental destruction are blatant and visible. It is also a place filled with resistance, community, and hope. It is from that geography that the magazine will now be sent out.
Asking for financial support
So, as we begin again, we hope you will continue to write, read, and subscribe. In this moment, we are especially asking for financial support. This transition comes with great cost—start up expenses, new staff, printing, and mailing.
The work is joyful and the magazine is beautiful, yet it certainly takes money to bring it to life. We would be so grateful for your support. Let us continue together on this wild and wonderful journey. Let us craft some holy mischief, ask the unanswerable questions, summon sacred stories, and shine light on places alive with the joy of creation.
I, for one, am filled with unattainable excitement and hope to do this work with you!
Peace,
Lydia Wylie-Kellermann
Detroit, Michigan