Call for Pitches: Geez 52, Poetics of Resistance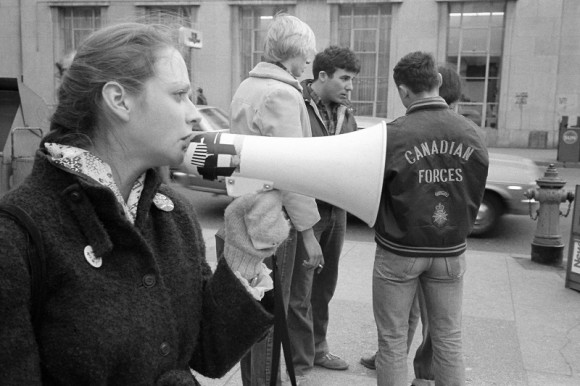 Deadline: January 13, 2019 (may be extended, submission details below)
This is a call for submissions of poetry and art, and for pitches for essays about poetry, poetics, and social change.
The next issue of Geez, guest edited by Geez poetry editor Melanie Dennis Unrau, will explore the poetries and poetics of social change.
We're looking for poetry, art, and essays that fit with our goal of naming and responding to all forms of injustice (racial, economic, homophobic, transphobic, ecocidal, ableist, colonial, sexist, misogynist, etc.).
The poetic is a vital force in resisting oppressive systems and injustice. It provides imagination, inspiration, and a vocabulary that transcends rational thought and expresses our groaning and yearning.
We want all kinds of poems and reflections upon poetry that are mindful of joys, sorrows, interconnectedness, legacies of injustice, and struggles for new ways of living and relating.
We welcome complete poems for consideration. We welcome pitches for articles, short and long, on the ways in which poetry has affected you or changed your world, or the role of poetics in human communities, or how poetry can articulate new forms of cross-species relations.
Additional themes to inspire pitches:
Poetry and Resistance
Spoken over megaphones, stencilled on placards, printed on pamphlets, and sung in protest songs, poetry has played a role in recent protest movements from anti-war activism to Occupy, from the Arab Spring and the Indignados to Standing Rock. Poets all over the world—Anna Akhmatova, Ken Saro-Wiwa, Pablo Neruda, and more—have been imprisoned, exiled, and martyred as dissidents, subversives, and visionaries.
Writing about the role of poetry in feminism, Black lesbian poet Audre Lorde wrote that for women "poetry is not a luxury. It is a vital necessity of our existence. It forms the quality of the light within which we predicate our hopes and dreams toward survival and change, first made into language, then into idea, then into more tangible action. Poetry is the way we help give name to the nameless so it can be thought." How does poetry or the poetic inspire, articulate, and support movements for social change? Send us your socially engaged poetry and art, or pitch an essay about a poem or image that had a profound impact.
Poetry as Resistance
W.H. Auden famously wrote that "poetry makes nothing happen." Canadian work poet and anthologist Tom Wayman calls poetry "Songs Without Price," virtual non-commodities that function outside of the monetary economy and have subversive potential. Can poetry count as activism in itself? The debate rages on in academic and poetry circles. Meanwhile, recent poetry projects like The Enpipe Line (against Enbridge's now-cancelled Northern Gateway Pipeline) and Poets for the Peace (against the Site C Dam in British Columbia) blur the border (wherever it is) between creativity and activism. Geez has long had an ear to the ground seeking activist poetry: send us your activist poems or your poems about activism, or pitch a story or essay.
Poetics of Resistance
Poetics can be making, creation, labour, and even a way of life. Monastic and contemplative practices are meant to reshape our lives, our thinking, how we see things, and the way we inhabit the world. So are practices like nonviolence, permaculture, cycling, blockades, and intentional community. Phrases like "we make the road by walking" (from the Zapatistas) refer to a kind of poetics. How do you describe the creative makings (the poetics) of community, of the Kingdom of God, or of the revolution?
Notes about submissions and pitches
We want poems, long-form journalism, personal stories of transformation, short bursts of feelings, nuggets of insight, and inspiration. Pick your aspect of the topic and expand with personal experience, researched wisdom, or spiritual insight.
In a great pitch, you describe the story, explain how it's a perfect fit for Geez, list the sources you'll consult, and state why you're the best person to write it (see contact info and deadline below).
1. Poetry submissions
Submit up to three poems for consideration. If formatting does not translate well in a text file, send a PDF, too.
2. Longer non-fiction pieces, length: 650 or 1300 words
We're looking for creative non-fiction essays, investigative articles or research-based pieces on the topic above. While a reference to your personal experience is welcome, readers need wisdom from other sources as well (interviews, books, articles, theologians, social-justice activists, academics, and moms and dads). Pitches should be one page, touch on the wider context of your topic and name at least one other source you will be consulting. Here's a request: Please think of yourself as a Geez contributing editor. Ask yourself: what would readers who are social-justice oriented and at the fringes of faith want to read on this topic? If your pitch is accepted you'll usually have two to four weeks to complete the piece.
3. Flash non-fiction, length: 50-350 words
These are short, personal experiences or insights. Your piece should capture a moment that illuminates a larger issue or convey a feeling familiar to us all. This is a chance to bring hope, insight, emotion, and connection to readers. Think of it as a snapshot with words.
4. Photos/illustrations
Consider the topic above and send original photographs (i.e., you took the photo) or illustrations that provoke or pacify, animate or incite. Or, if you know of a photographer or illustrator who can deliver an awesome photo essay or series of drawings and is willing to get big play in a premium little magazine for a modest honorarium, please pass this pitch along.
5. Our community of readers and writers
The Geez project is a discussion among people often at the fringes of faith seeking social justice. Our readers and writers express this through art, activism (a creative critique of those in power and the structures that keep them there, and the promotion of alternative practices that subvert such powers), contemplation, and a more-grounded, interconnected approach to living.
6. Guidelines and responses
Before pitching, please read our guidelines for writers. Ideally we would like to respond personally to every piece of correspondence we receive. But given the number of submissions we receive – and having tried to respond to all – we realize it is just not possible. If you do not hear back from us within six weeks, assume that we were unable to use your submission.
First deadline for pitches and submissions:
January 13, 2019
Send pitches, manuscripts and images to Geez editors:
By email: stories [at] geezmagazine [dot] org
By mail:
Geez magazine
400 Edmonton Street
Winnipeg, Manitoba R3B 2M2
Canada
We look forward to seeing what you send!
Sincerely,
Aiden Enns, Lydia Wylie-Kellermann, and Melanie Dennis Unrau
Photo: CC via Flickr