Call for pitches: Geez 53 Mothering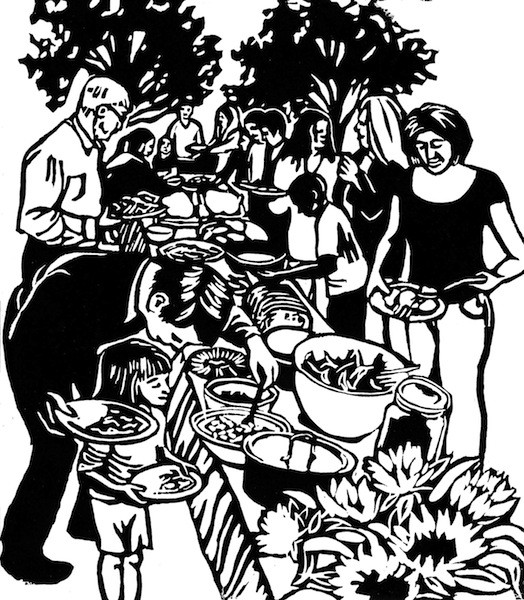 Deadline: February 10, 2019
The next issue of Geez will explore the complexities in parenting with a special focus on mothering. We want to reclaim parenting as sacred communal work that forms the generations to come and the future of this planet.
So often the work of parenting is separated from activism and resistance. Perhaps it's because so much of the work is the mundane tasks of dishes and diapers. Or maybe it's because when you hold your baby in your arms, the risks taken for justice seem so much greater. Every decision in raising children seems to be a constant juggle between the personal and political.
We want to honour and highlight the diversity of experiences and experiments when it comes to family.
Here are some questions and prompts to consider as you think about pitching a piece.
Mothering
• Share with us stories of mothering or being mothered — of joy or loss, of grief or agony.
• Birthing, breastfeeding, homeschooling, vaccinations, write about decisions that have felt particularly political.
• What is your experience of mothering in this historical moment?
• Write a love letter to your partner who mothers your kids.
Re-defining family
• In an age of non-binary gender, is there anything unique about mothering? Or should our language shift and how?
• Can men mother?
• What are the problems with the nuclear family? How can family be re-imagined? How have you created something new in your place?
• Have you chosen not to have children? Why?
• Were you unable to have children? What has grown out of that experience?
Capitalism, climate change, and white supremacy
• For those who didn't have children, by choice or not, what does it look like to age in this culture without kids? How have capitalism and individualism created a system that makes raising children not only the norm but necessary? What are the alternatives?
• There is common criticism that young people are having fewer kids and later in life. More young people grapple with bringing children into this world, knowing that the devastations of climate change may seriously alter the lives of their children. How do these questions affect your own decisions?
• Conservative media outlets have supported white supremacist narratives claiming that white people need to keep having children in order to maintain control and majority rule. What spiritual harm does this narrative have on ourselves and/or our children?
• How do we parent anti-racist kids? How do we raise kids to care about justice?
Power of mothers
• How have images of God as mother affected your faith? How does the image of earth as mother matter in this time?
• What does scripture say about mothering, wombs, and a feminine spirit?
• In 1870, Julia Ward Howe wrote the Mother's Day Proclamation saying "Arise, all women who have hearts… From the bosom of the devastated earth a voice goes up with our own. It says: Disarm, disarm! The sword of murder is not the balance of justice." Mothers hold an ancient history of being justice warriors on behalf of their children. From the Mothers of the Disappeared in Argentina to the Mothers Against Police Brutality, their cries keep the stories from going silent. Write us a historical piece or a story of such a group you are apart.
Notes about submissions
We want long-form journalism, personal stories of transformation, short bursts of feelings, nuggets of insight, and inspiration. Pick your aspect of the topic and expand with personal experience, researched wisdom, or spiritual insight.
In a great pitch, you describe the story, explain how it's a perfect fit for Geez, list the sources you'll consult, and state why you're the best person to write it (see contact info and deadline below).
1. Longer non-fiction pieces, length: 650 or 1300 words:
We're looking for creative non-fiction essays, investigative articles or research-based pieces on the topic above. While a reference to your personal experience is welcome, readers need wisdom from other sources as well (interviews, books, articles, theologians, social-justice activists, academics, and moms and dads). Pitches should be one page, touch on the wider context of your topic and name at least one other source you will be consulting. Here's a request: Please think of yourself as a Geez contributing editor. Ask yourself: what would readers who are social-justice oriented and at the fringes of faith want to read on this topic? If your pitch is accepted you'll usually have three to four weeks to complete the piece.
2. Flash non-fiction, length: 50-350 words
These are short, personal experiences or insights. Your piece should capture a moment that illuminates a larger issue or convey a feeling familiar to us all. This is a chance to bring hope, insight, emotion, and connection to readers. Think of it as a snapshot with words.
3. Photos/illustrations:
Consider the topic above and send original photographs (i.e. you took the photo) or illustrations that provoke or pacify, animate or incite. Or, if you know of a photographer or illustrator who can deliver an awesome photo essay or series of drawings and is willing to get big play in a premium little magazine for a modest honorarium, please pass this pitch along.
Tips for pitches:
The Geez project is a discussion among people of faith seeking social justice. Our readers and writers express this through art, activism (a creative critique of those in power and the structures that keep them there, the promotion of alternative practices that subvert such powers), contemplation, and a more-grounded, interconnected approach to living.
Additional info:
Before pitching, please read our guidelines for writers.. Ideally we would like to respond personally to every piece of correspondence we receive. But given the number of submissions we receive – and having tried to respond to all – we realize it is just not possible. If you do not hear back from us within six weeks assume that we were unable to use your submission.
Deadline for pitches: February 10, 2019
We look forward to seeing what you send!
Sincerely,
Lydia Wylie-Kellermann, managing editor
Aiden Enns, editor
Kateri Boucher, associate editor
Lucia Wylie-Eggert, designer
Send pitches, manuscripts and images to
Geez Editors,
email: stories [at] geezmagazine [dot] org
mail: Geez magazine, 1950 Trumbull, Detroit, MI 48216 USA
PS: If you wish to unsusbcribe from the writers list, please send an email to unsubscribe [at] geezmagazine [dot] org with "unsubscribe writers list" in the subject line and we'll take care of it.