Call for Pitches: Geez 42, Reading to Transgress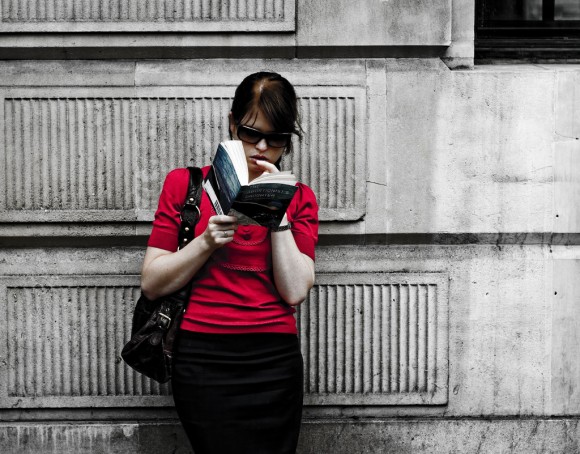 Deadline for pitches: February 8, 2016
In the next issue of Geez magazine we'll explore the steps from being passive readers of cultural products to active subjects creating a better world. Please send us your proposals for articles, creative non-fiction, poetry, and art.
As a target of the culture industry, what's happening in your mind as you consume books, magazines, YouTube videos, and content from TV, Netflix, Spotify, and iTunes? Just enjoying the story, soaking up the worldview brought to you by big corporations? Or are you thinking, "Boy, that portrayal of masculinity is violent," or, "My, that assumption of the good life is bogus," or "Hmm, all the people of colour are cast in minor roles"?
Active participation in social media platforms like Facebook and Twitter brings a sense of engagement, but these platforms also invite superficial exchanges and social conformity.
Cultural theorist bell hooks uses the phrase "imperialist, white supremacist, capitalist patriarchy" to describe the dominant worldview that pervades North America and ripples through mainstream media products.
How can we be more aware of the messages and cultural assumptions that bombard us? How can we ask better questions, make new meanings, and act in ways that transgress the dominant scripts?
How can Geez readers go beneath surface meanings and develop "critical literacy"?* Tell us of the time you questioned received wisdom and came to a new understanding. What were the consequences of your discovery?
Calls for non-fiction pieces (see description 1. below)
We invite pitches dealing with any of these and related questions:
- How can we talk back to the cultural products that define our society?
- How can we take back our pleasures from the corporate advertising machine?
- Does being a feminist killjoy, a la Sara Ahmed, or an anti-racist killjoy, mean killing all joy?
- Does reading and viewing differently matter?
- Should we abandon consuming culture for creating it? What if Hollywood does it better?
- May we never have satisfying explosions in our progressive movies?
- Isn't there some happy medium between killing it at Grand Theft Auto and swearing off video games to play shuffleboard?
- Does taking a moral or ethical stance about entertainment drain it of its entertainment value?
- Can't an activist enjoy a dance video in peace without getting all heavy about it?
- Is using pop culture to distract ourselves from the trouble the world is in sometimes necessary?
- Can pop culture be used to recharge or refresh activists for the work they do?
- What's the connection between giving the people what they want and shaping what they want?
Geez readers need help with navigation; tease out and contemplate connections and contradictions for our seeking.
Some examples: In his Atlantic Monthly column, Ta-Nehisi Coates routinely analyzes racism and white supremacy in the U.S. and takes on mainstream media from the inside; but along with writing about James Baldwin and W.E.B. Du Bois, he tweets to his 500,000 followers about his love for, and deep knowledge of, comic book universes. Roxane Gay wrote Bad Feminist, and went crazy for Magic Mike 2. While bell hooks criticized Beyoncé, Tressie McMillam Cottom, a scholar who studies educational inequality in the U.S., loves her.
Calls for flash non-fiction (see description 2. below)
a) What media indulgence is your guilty pleasure: show, site, vlog, magazine, comic, game? What do you love about it? How have you managed to feel okay about your indulgence? Do you recommend this to others, with what warnings? Submit your confession in 50-350 words.
b) What story did you read/watch/hear that changed your life? It could be a massive change, minor shift, or new habit. What caused you to "wake up" from passive acceptance of the way things are and "do" something to address power imbalances/alleviate suffering/live more sustainably? Tell us in 50-350 words.
Notes about submissions
We want long-form journalism, personal stories of transformation, short bursts of feelings, nuggets of insight, and inspiration. Pick your aspect of the topic and expand with personal experience, researched wisdom, or spiritual insight.
In a great pitch, you describe the story, explain how it's a perfect fit for Geez, list the sources you'll consult, and state why you're the best person to write it (see contact info and deadline below).

1. Longer non-fiction pieces, length: 650 or 1300 words: 

We're looking for creative non-fiction essays, investigative articles or research-based pieces on the topic above. While a reference to your personal experience is welcome, readers need wisdom from other sources as well (interviews, books, articles, theologians, social-justice activists, academics, and moms and dads). Pitches should be one page, touch on the wider context of your topic and name at least one other source you will be consulting. Here's a request: Please think of yourself as a Geez contributing editor. Ask yourself, What would readers who are social-justice oriented and at the fringes of faith want to read on this topic? If your pitch is accepted you'll usually have three to four weeks to complete the piece.
2. Flash non-fiction, length: 50-350 words:

These are short, personal experiences or insights. Your piece should capture a moment that illuminates a larger issue or convey a feeling familiar to us all. This is a chance to bring hope, insight, emotion, and connection to readers. Think of it as a snapshot with words.
3. Photos/illustrations: 

Consider the topic above and send original photographs (i.e. you took the photo) or illustrations that provoke or pacify, animate or incite. Or, if you know of a photographer or illustrator who can deliver an awesome photo essay or series of drawings and is willing to get big play in a premium little magazine for a modest honorarium, please pass this pitch along.
Tips for pitches: 

The Geez project is a discussion among people of faith seeking social justice. Our readers and writers express this through art, activism (a creative critique of those in power and the structures that keep them there, the promotion of alternative practices that subvert such powers), contemplation and a "more-grounded, interconnected" approach to living.
Additional info


Before pitching, please read our guidelines for writers. 
Ideally we would like to respond personally to every piece of correspondence we receive. But given the number of submissions we receive – and having tried to respond to all – we realize it is just not possible. If you do not hear back from us within six weeks assume that we were unable to use your submission.
Deadline for pitches: February 8, 2016
Send pitches, manuscripts and images to 

Geez editor, Aiden Enns

email: stories [at] geezmagazine [dot] org

mail: 
Geez magazine 
400 Edmonton Street
Winnipeg, Manitoba R3B 2M2
 Canada
*This issue is about critical pedagogy or critical literacy as Ira Shor calls it in his book, Empowering Education (1992): "Habits of thought, reading, writing, and speaking which go beneath surface meaning, first impressions, dominant myths, official pronouncements, traditional clichés, received wisdom, and mere opinions, to understand the deep meaning, root causes, social context, ideology, and personal consequences of any action, event, object, process, organization, experience, text, subject matter, policy, mass media, or discourse."