To My White Evangelical U.S. Friends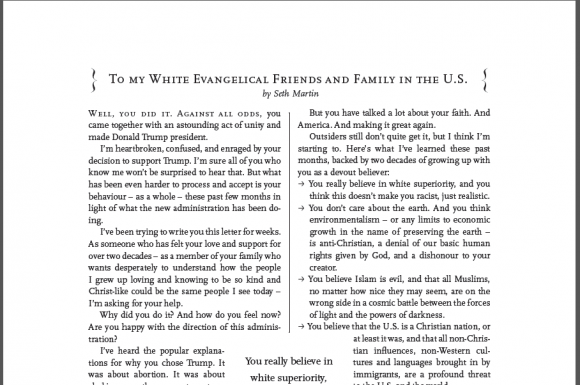 Here's an excerpt from an article by Seth Martin in the current issue:
Well, you did it. Against all odds, you came together with an astounding act of unity and made Donald Trump president.
I'm heartbroken, confused, and enraged by your decision to support Trump. I'm sure all of you who know me won't be surprised to hear that. But what has been even harder to process and accept is your behaviour – as a whole – these past few months in light of what the new administration has been doing.
I've been trying to write you this letter for weeks. As someone who has felt your love and support for over two decades – as a member of your family who wants desperately to understand how the people I grew up loving and knowing to be so kind and Christ-like could be the same people I see today – I'm asking for your help. . . .
Read Seth's entire letter here.
We welcome letters to the editor, see our contact page.