Spoken-Word Communities Felt Like Church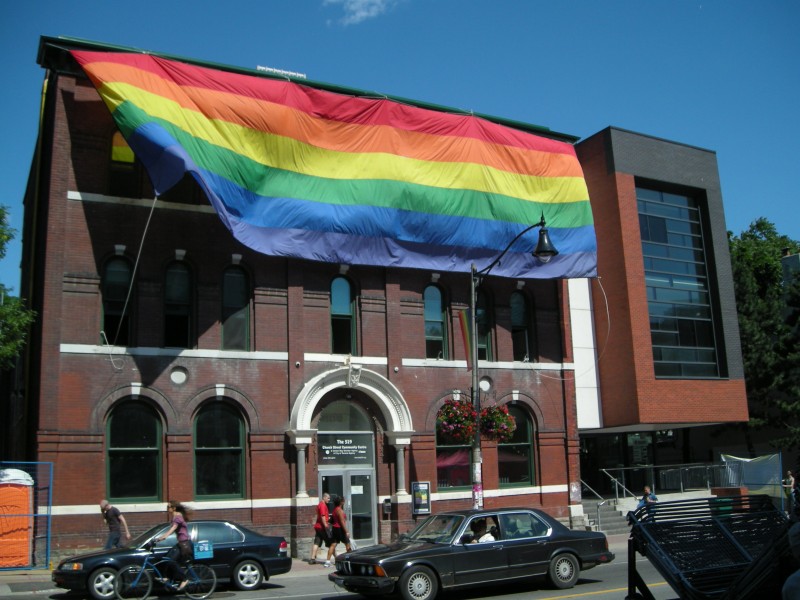 "When I dare to be powerful, to use my strength in the service of my vision, then it becomes less and less important whether I am afraid." -Audre Lorde
These words have stayed in my gut since I came across writer and activist Audre Lorde during my master's degree in gender studies. Until that point, I had lived most of my life in fear and shame, with no idea how powerful I could be.
I came out as gay a few years earlier while working in Christian ministry. I was in so much pain I easily signed a sexual conduct policy forbidding "homo-sexual behaviour." I believed I was "broken" from years in evangelical communities, and the shame was lodged deep in the cracks of my bones.
It was during this time of immense pain, self-hatred, and coming out that I started writing and performing spoken word poetry in Ottawa. It was terrifying, exciting, and healing as each word was released from my pens and lips.
I was hesitant to perform at first, but some friends told me my voice was missing from the slam poetry scene. These words pushed me to be the representation I wasn't seeing on stage, and later in my communities and the media. I wanted to be a voice for all the "little Jennas" who weren't ready to speak yet and needed to know they weren't alone.
Each time I spoke my truths out loud, I became less afraid. Each person who connected with my experiences and felt less alone reminded me I had to keep speaking these stories.
After a few years of performing, I was finally ready to share my story publicly of being queer and Christian. I was scared, but my vision of bridging queer and Christian communities was stronger. Friends, poets, and strangers came up to me with long hugs, tears, and nods of solidarity as they connected with or were challenged by my story.
The stage became a place to break silences, connect, heal, and find my voice. And this was just the beginning of a journey I could never imagine.
I was also inspired in the classroom by many writers and activists, including Lorde, bell hooks, and Gloria Anzaldúa. They wrote about coming to voice and breaking silences as important acts of resistance to dominant culture – especially for women of colour who never had a public voice. I felt seen in their words and encouraged to bring all my identities to the table.
Slam poetry came out of white, working-class neighbourhoods in Chicago to broaden poetry's appeal to the masses by moving it out of academia. These roots have opened spaces for marginalized voices to challenge the status quo, speak their truths and be heard. I'm reminded of hooks' work where she explored the margin as a place of possibility and resistance for oppressed people to create and imagine new worlds.
I saw poets resist and reimagine alternative worlds as they explored the nuances of identity. I came across this idea in Anzaldúa's work where she talked about the importance of naming and re-claiming all her identities as a queer Chicana feminist, especially those parts that were conflicting. Like Anzaldúa, poetry gave me the space to sit in the complexities, and reclaim my racial, queer and faith identities for myself.
When I left the church for some time after coming out as queer, spoken-word communities felt like church to me. I didn't have to hide my queerness here. It was a place of love, healing, transformation, community, and home – so much of the beauty I found in Christian communities.
My younger self never believed she could live authentically as a queer Christian woman of colour. She had no idea poetry would help us to find our voice, bring healing to those around us and step into our power and beauty by telling our story.
Jenna Tenn-Yuk is a writer, speaker, facilitator, and performer. Her writing has appeared in the CBC, Huffington Post, Ottawa Citizen, and The UC Ob-server. Her favourite place to read poetry is snuggled under her covers with the soft morning light streaming in and Sarah Vaughan echoing from her record player. She lives in Toronto where she works as a writing coach at Firefly Creative Writing. Learn more about Jenna at jennatennyuk.com.
Image credit: "519 Church Street Community Centre," Neal Jennings, flickr.com/photos/sweetone/3662910637.
Dear reader, we welcome your response to this article or anything else you read in Geez magazine. Write to the Editor, Geez Magazine, 1950 Trumbull Ave Detroit, MI 48216. Alternately, you can connect with us via social media through Twitter, Facebook, or Instagram.