If an Undocumented Chinese Restaurant Worker Took a Sabbatical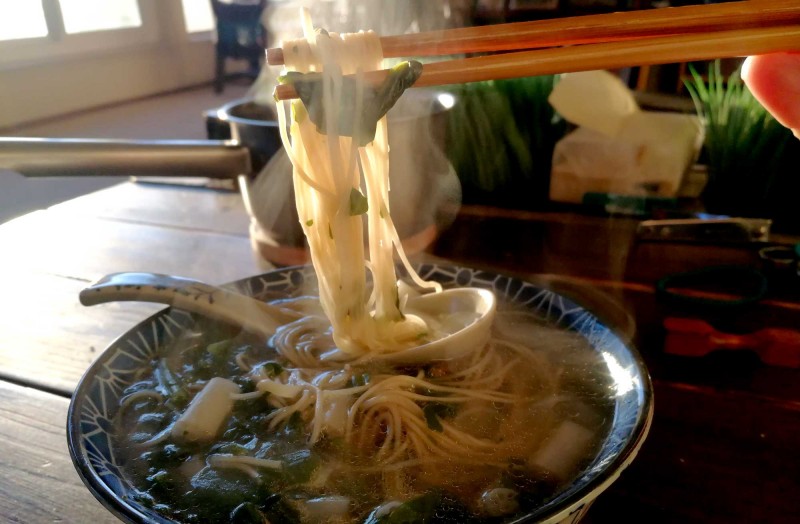 I still don't know what I will do at the end of this sabbatical. But I am drinking oxtail soup and trusting my great grandma's words.
The audio is a recording of the written piece by Liuan Huska for Geez Out Loud.
Dear Xu Rong Yang,
You have been selected to receive a one-year sabbatical! We will pay off any debts you have incurred and cover all your living expenses during this twelve-month period. The only requirement is that you rest, whatever that looks like for you.
Warmly,
The Jubilee Institute
***
*From the Journal of Xu Rong Yang*
January 2
I told my boss I'm not working this year. It was awkward because I live in an apartment that he rents out for us workers. Yesterday, my coworkers went back to the Golden Dragon Chinese Buffet to fry eggrolls, wash dishes, bus tables, roll silverware, and hop on their feet all day. I stayed back on my mattress on the floor. One of the resident roaches sauntered by, waving her antennae, and I asked her what I should do. She skittered away.
January 23
The skin on my fingers feels different from not handling steaming hot buffet trays all day. My pores no longer emit greasy food odors. Last night I woke up in a sweat, dreaming a line of customers was waiting and all the buffet food was gone. I was frozen in place, unable to run to the kitchen to call for more fried rice or orange chicken. Then the ceiling broke loose and hundred-dollar bills started falling from heaven. I woke up in this new place I found through a friend. No roaches. $1000 per month split with a roommate. The biggest thing is that my $40,000 debt from being smuggled in a shipping container to the U.S. last year is gone. I had planned to start sending money to my mother and father back in Fujian when I paid it off. Can I write "support to aging parents" as a living expense?
April 15
The past few months have been nice. Watching Korean soap operas. Taking walks. Wandering through grocery stores. Writing in my journal. But my mother keeps asking me what I will do after this year. Honestly, I don't know who I am. When I came to the United States I only knew I had to make money. That was my blind family duty. Without that role, I am just a floating mist.
June 1
I don't know where this came from, but I had the lightning bolt idea to write to the Jubilee Institute that I need more than a rest from being a low-wage restaurant worker. I need education. I need legal immigration status. They put me in touch with some groups that help. They arranged some meetings with someone called a "spiritual director."
July 27
I've had three sessions with Mei, my spiritual director. I keep waiting for her to tell me what to do, but she only asks me questions that I'm scared to answer. I have no vocabulary to describe my inner life. When I try to be quiet and listen to something she calls "the holy one," I hear only my dead great grandma's voice saying, "Xu Rong, your spirit is fierce and gentle. Like water, you will find a way." And my grandma, admonishing, "Drink more oxtail soup."
September 9
I am taking some classes at the community college. Including one called "Art and Nature." So impractical. But when I saw it, I had a flashback to my childhood – painting watercolours of the grasshoppers and beetles crawling in the city park. I haven't had the luxury of feeling that kind of wonder in decades. I still don't know what I will do at the end of this sabbatical. But I am drinking oxtail soup and trusting my great grandma's words.
Liuan Huska is 1.5 generation Chinese immigrant and author of Hurting Yet Whole. She lives near Chicago, Illinois on ancestral Potawatomi land.