Civil Disobedience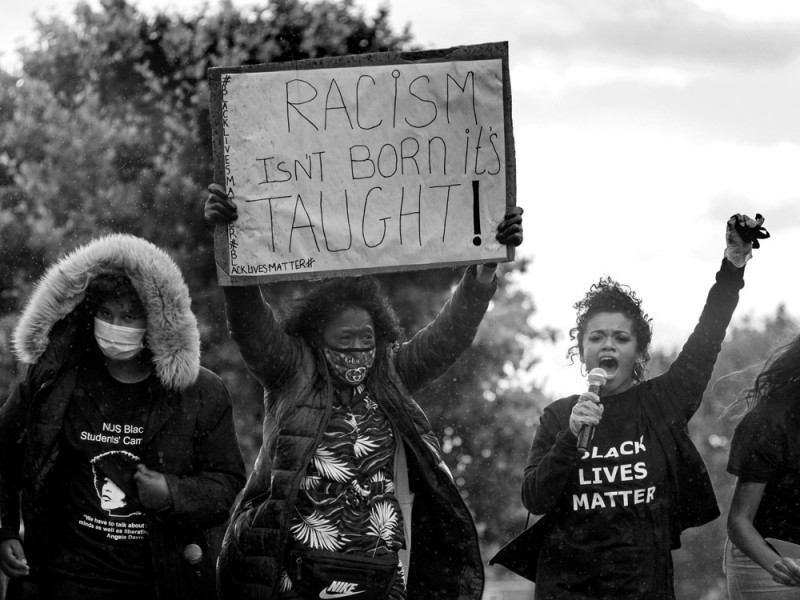 Black Lives Matter Reveals a Fault Line in Christianity
The murder of George Floyd at the hands of Minneapolis, Minnesota police has provoked a spirit of liberation across the world. In the middle of varying degrees of social lockdown in light of COVID-19, people are risking their health and their lives to confront the fatal power of white supremacy. Solidarity protests have been organized around the globe, and many countries outside the U.S. are being forced to grapple with their own embedded anti-Black racism, including Canada, Germany, the U.K., Brazil, Colombia, and many more.
"We are here on the day of Pentecost in one accord and we are on fire. Some of us are on fire with rage. Some of us are on fire with anger. Some of us are on fire with determination," said Pasadena artist and organizer Andre Henry at a rally on Sunday, May 31, according to a Religion News Service (RNS) report from Alejandra Molina. "All around the world right now, like a gale force wind, people are saying Black Lives Matter!"
At the same time, Christianity has found itself on both sides of the protests, dramatized starkly when the U.S. Secret Service tear gassed Lafayette Square in Washington, D.C. on June 1 to clear out St. John's Church. The gas was used to make way for a photo op of President Trump holding a Bible in front of the church. Protesters and journalists in the area were scattered, among them a group of Christian demonstrators. "They turned holy ground into a battleground," said Rev. Gini Gerbasi, who was tear gassed, according to a report by Jack Jenkins at RNS.
The scene is a reminder of the struggle within Christianity, a faith that has helped to both create and resist white supremacy. In the history of anti-Black racism, holy ground has always been a battleground. As that battle continues, laypeople, Catholic Workers, nuns, priests, pastors, bishops, and other holy troublemakers have been marching and rallying with so many others who are building a world where Black Lives Matter.
Faith Leaders Show Up for Oakland McDonald's Strike
While corporations have routinely celebrated frontline workers through advertisements and social media, many have left their own employees without Personal Protective Equipment (PPE), paid sick leave, or wage increases. Workers have responded by going on strike throughout the country. In May, 33 out of 35 workers at one McDonald's store in Oakland, CA, went on strike after the coronavirus spread through several workers and their families. Fight for $15 organizers stated that prior to the strike, management instructed workers to make masks out of dog diapers and rubber bands, according to a report by Kaela Sanborn-Hum at Labor Notes.
Since the pandemic means workers can't rely on the tried and true method of having a thick crowd of demonstrators and signs, organizers of one rally came up with the creative idea to make 33 colourful cardboard cutouts of workers, which were held by socially distanced community members. David Solnit reported the story for Common Dreams, where he highlighted that Christian, Muslim, and Jewish faith leaders spoke in support of the striking workers.
"Jesus and his followers understood that they were dispossessed by an exploitative economic system that squeezed every last drop of profit from them," said Joanna Lawrence Shenk, Associate Pastor of First Mennonite Church of San Francisco. "I stand with the workers because they are leaders showing us a way to a different future. I stand with the workers because they embody the courage we all need to usher in this new world."