Long-time owner gives her Anti-Fashion Emporium over to a co-op full story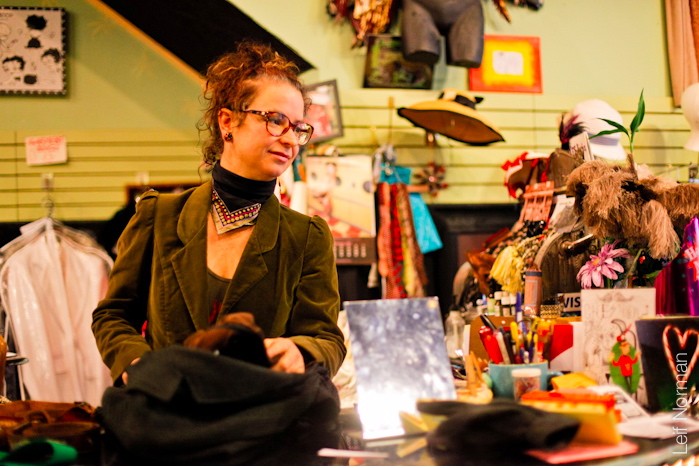 As a teenaged outcast in rural Manitoba, stuck in the '80s, listening to the '70s and reflecting on the '60s, I had a utopian, back-to-the-land vision. Born in 1969, I seem to have embodied everything the year has come to represent: revolution, experimentation, expression. My vision is still coloured with that, though the maturities of single, self-employed womanhood have also tinted it.
Meeting a charismatic archeologist and a free-wheeling gypsy at a country fair, I first caught a glimpse of the life I longed for. A stack wall interspersed with bottles. Hand-built rustic dwellings. A reclaimed caboose. A hillside cabin on a creekside path. Roseisle on the Tiger Hills escarpment. Potters, carvers, community – the Pumpkin Creek Festival showcased an alternate economy of traditional artists and barefoot families.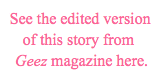 I dropped out of school. I house-sat a converted Altamont rectory through a winter that I wasn't prepared for. I made jewellery and picked vintage clothes from auctions and junk shops, while working the apple and potato harvests. Every second weekend I'd hitchhike into Winnipeg to trade at a core-area basement shop, Ragpickers Anti-Fashion Emporium.
The owner, an outreach worker and feminist activist, was just setting up a café called Emma G's Deluxe Eatery, the opposite pole to my land-living solitude. I began to work with another valley-dweller, Walter Lewyc, to gather wood and pool foodstuffs, dreaming all the while of an ethical community. Having see-sawed between them, he also knew the conundrum of a country life needing an urban income.
Rural Manitoba offers few opportunities. Without job skills or formal training, options are limited to the restaurant, gas bar or grocery store. Walter had run a place in Winnipeg called Lithium – A Depression Café through the '80s, but he left for a simpler life. He and a few other "pickers" showed me the ample, free resources in the city's back lanes. Struggling to survive in the country, I began to weigh my options.
Educated in radical living through travelling to Grateful Dead shows and witnessing their transient economy, I realized that living simply on modest earnings would be easier in the city. I moved into the back of Ragpickers and turned to urban harvesting. The notion of the "urban farmer" had come to me when I saw the abundance of post-consumer goods in the city. Coming to terms with wastefulness amid poverty, I realized that everything we needed lay at hand, if only we'd see it.
In the early '90s there were still a few rag-factories where you could buy surplus clothes by the pound, quaint vestiges of the textile capital that Winnipeg once was. In fact, the decline of the garment trade made for accessible space in the Exchange District. I signed my first lease and took over Ragpickers. I was young and determined to build an anti-capitalist business in the heart of Winnipeg.
Uneasy with ownership, I expanded the Ragpickers structure. I found book dealers and invited Walter and other pickers to sell their treasures. I soon assembled a 13-member collective. Our 6,000 square feet held two newspapers, a jewellers' co-op, a coffee house and a bike repair shop. I loved the vibrant chaos. The little cabin in the country was now but a blue-moon retreat, on hold while I earned a living.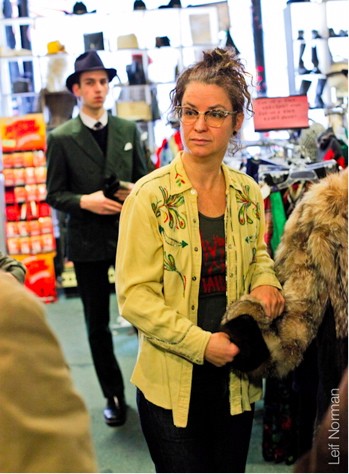 Over the years I experimented with collectives, ran an old boarding house, played in two bands, did performance art and made jewellery, earning little but having fun. Relationships are organic, though, and subject to decay. There were breakups and breakdowns, suicides and death, tough times and misunderstandings.
Being responsible for a community that lacks common beliefs is a challenge. Growing up alongside Hutterites, I saw how belief formed a common denominator. Dead Heads united around the band; musicians shared a language. I sought connection in the Native American Church and eco-communities, while fighting the gentrification of my beloved Exchange District. Deciding to raise my voice for change, I ran Green in two provincial elections.
Four years ago I moved into the Oikos House, a co-op that had languished for years in the well-to-do River Heights neighbourhood. I knew it was a rarity – a city house that felt country. Inspired again by communal ideals, I chose a lifestyle that fulfilled through the quality, rather than quantity, of my possessions and experiences.
Now, as an alternative entrepreneur, I am working to establish self-sufficient, empowered artists as the pioneers of a new economic model embracing rural/urban interdependence, conscientious living and an awareness of the socio-political impact of employment. When the Manitoba government announced its new multi-stakeholder co-op legislation for 2012, the International Year of the Co-operative, it resonated deep within the Anti-Fashion Emporium. I am turning over ownership of Ragpickers to a multi-stakeholder co-op. With the rise of the Occupy Movement, the momentum behind our formal co-operative shift – so long in growth, so often stunted – seems unstoppable. – Kristen Andrews
See the edited version of this story from Geez magazine here.