Would your church welcome someone who did time for sex offences against minors?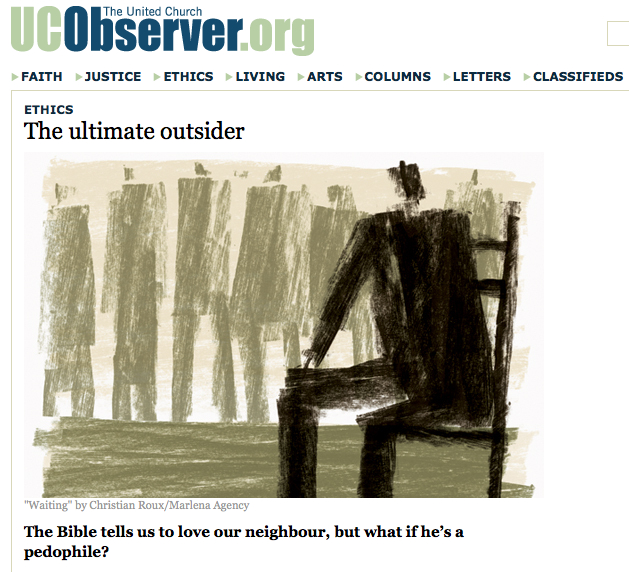 "As part of my probation conditions, I have to stay away from places where there are families," says Joe Patterson, "so that made finding a church hard." It didn't help that when he was released from prison, a local newspaper printed a full-page photo of Patterson along with his record of sexual offences against minors. The comment sections of news websites teemed with vitriol at the report of his re-entry into society.
Sitting at the kitchen table of his modest Winnipeg apartment, Patterson speaks without pretension, like someone who does not take for granted a second chance at life. His partner — who attends a United Church — sits on the couch nearby, typing on a laptop.
Having worked hard at rehabilitation while in prison, Patterson was eager to start over. But after his release, venturing into public, including to church, made him nervous. "Part of the challenge in reintegrating is facing the fear that no one is going to want to have anything to do with me," he says.
Society is primed to revile and fear people with histories of criminal offence, particularly those convicted of sex crimes against children. Most communities react with concern — or outright hostility — when they learn that a pedophile has moved into the neighbourhood. But fear left to fester serves no one, except perhaps politicians, who hope their tough-on-crime resolve will turn the dark sentiments of voters into their political gain. In Ottawa, the federal government is currently upping the toughness ante with a proposed crime bill that will make laws harsher, sentences longer and, presumably, public sentiment toward offenders more hostile.
Within faith communities, the presence of someone who has transgressed against society's most vulnerable can test the bounds of acceptance and inclusivity. And yet, some churches are choosing courage over fear and responding in a way that is both more merciful and more effective. They offer people with histories of criminal offence another chance, while still taking seriously the realities of evil.
"We're not here to judge or condemn anyone," says Pastor John Woodman of Grace Community Chapel . . . .