G20 Summit and French President Sarkozy's baby is perfect timing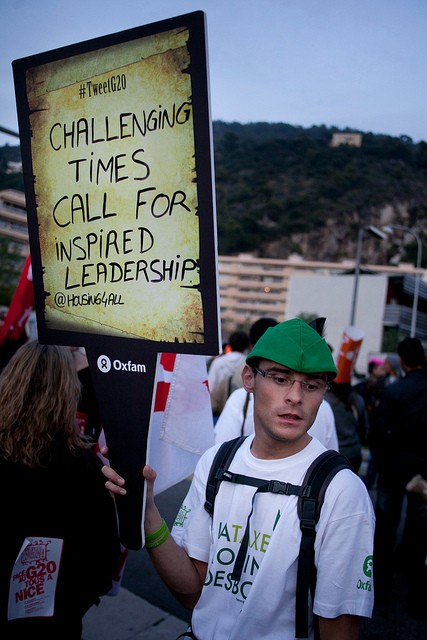 Geez correspondents and World Vision's global justice advocates Chris Derksen Hiebert and Sharon Marshall will be at the G20 in France to uncover why anyone should care about this kind of hyped-up power showcase. Here's what they had to say about the birth of President Sarkozy's baby, just over a week before they leave for the summit in Cannes.
When we heard about the birth of little Guilia Sarkozy last week, we got together to write a message congratulating her famous and powerful parents, Carla Bruni and Nicolas Sarkozy — celebrating the birth of a rich kid of a powerful president and a supermodel. It may seem like a strange thing for a couple of unknown Canadians obsessed with bringing justice for the world's poorest children, but we did it for the same reason we're watching the G20 so closely.
Why does Guilia's birth make us hopeful? We know that deep down, all the G20 leaders really do, like us, want all kids to have the same chances to survive and thrive as a baby born in France or, say, Canada. Both of us have kids of our own and know that having kids may be the easiest way to expose your own values to yourself, especially when it comes to child rights. Love for our children and determination that they get the best start in life based on an almost insane instinct to protect them and provide for them are things that all the parents we've ever come across share. We'd never let them be denied food or health care, or education if we could do anything at all about it. These simple and obvious concepts can be the keys to bringing true world change if we find a way to make them topics of discussions in circles of power like the G20. So we wrote the congratulatory message.
We said his precious Guilia had won the geographic lottery of life and we're really happy for her. There's no doubt she'll have enough to eat and drink and access to great health care for both her and her mother. We added that it would be wonderful if all children could be so secure. Babies born in France are 43 times more likely to reach their fifth birthday than a kid born in Chad. 43. That's crazy. Parents in Chad have the same love for their kids and instinct to protect them that parents in France have. But last week, while Carla Bruni was publicly swearing that she'd never expose little Guilia to the press, parents of newborns in Chad were swearing they'd find enough food for their babes. If only both could stay true.
We want the G20 leaders to take up the aid and development issues that are looking like a blistering hot potato in the transition between the G8 and G20 power structures. We're hoping the birth of a president's baby will help make all 20 leaders a bit more open to thinking about the importance of food security and poverty issues facing them are really about the babies of the world. We're hoping it will help them be a bit less inclined to think only of banking systems and terrorism. If the 20 leaders meeting next week decide to make nutrition a priority in their development and food security work, they could save one-third of the children who die each year. Next week we'll see if it's too hard to grab their attention with that hope in the luxury of sea-side Cannes.