Bad Business Plan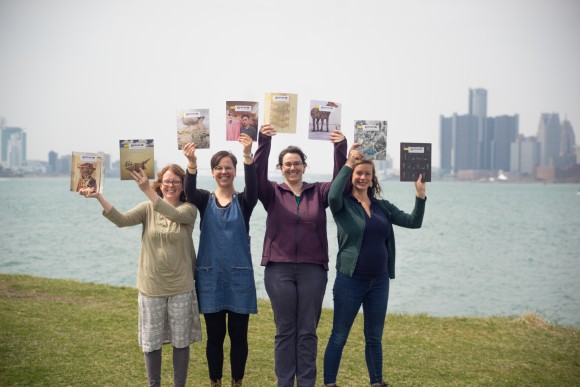 "I have been a supporter of Geez magazine since the beginning, I have deep respect for how it makes space for artists and writers to share their work from a meaningful place. With so much pressure in our world to buy, to do, to produce, and to achieve – Geez always has reminded me to make space for awareness and reflection. We support Geez monthly as one act of subversion for the systems of inequality and consumption. We support Geez particularly because there is no advertising. We support Geez as a way to make a choice that improves the world by giving voice to the margins and to highlight other ways of countering-culture. We support Geez because it makes room for faith and culture to dialogue. I'm proud of the work it has done, I'm proud of the integrity of the writers and editors. I love that people are still discovering the value of it and I can't wait to see how this next chapter will unfold."
– Maya Landell, Toronto, Ontario
Bad Business Plan 101
1. Let your kids run through the office with boxes on their heads and spit up on your budgets.
2. Refuse to give up on print or move your publication online.
3. Print on the most expensive 100% post-consumer waste paper.
4. Turn down money from advertisers.
5. This is Geez magazine. We throw down with bad business plans. We refuse to cooperate within a capitalist frame of mind. We rely on readers and community to support this holy, humorous adventure. We straddle the budget lines, count subscriptions, and hope to break even. And we have a blast doing it.
This is the long tradition of Geez. We believe that stories are crucial in the work of transformation. And we believe that holding those stories in your hands is sacred.
Geez has always been reader supported. Our community has been so generous in supporting this work. So, twice a year, we send out a call for additional support. This is one of those moments. Contemplate the gifts Geez brings to our lives, individually and collectively. Consider a monthly donation, perhaps $5 – we rely heavily on these sustaining gifts and you benefit from a continuous subscription (no renewal notices from Kateri!).
Your donations are deeply appreciated. We are glad to be in this work with you!
Peace,
Lydia Wylie-Kellermann
Editor, Geez