Baba Reflection to Dee Dee Risher by Will See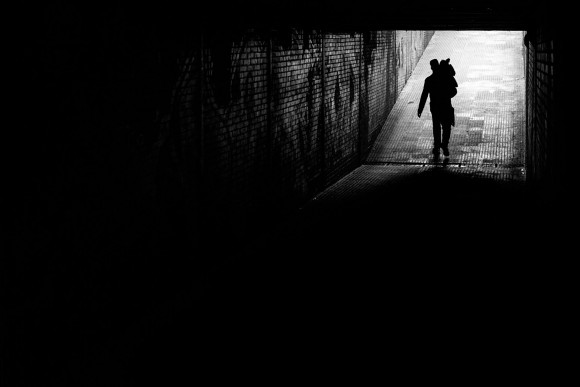 Response to Parenting Kids to Live in This Broken, Hopeful World by Dee Dee Risher.
"Broken" and "hopeful" aren't the two first words I would use to describe this world. Perhaps it's "colonized" and "still undefeated"… Perhaps it's "insane" and "beautiful." The society is fucked up but the world is full of vital energies in every dimension.
I was very much moved to write this brief personal reflection by Dee Dee Risher's touching article in Geez magazine "Parenting Kids to Live in This Broken, Hopeful World."
I am writing this response as a New Afrikan father to an 8-year-old boy. I'm a life long Detroiter, a man with chronic health conditions. My son's mother is Anishinaabe and has some white-skin privilege. I stopped full time organizing because I don't want to run myself into an early grave when it is doubtful to me that "the movement" will support my son in my absence.
For many who grew up in conditions of genocide, raising the next generation can be a sort of duty. The arguments against "overpopulation" and the (white) doubts of "raising kids in a troubled world" never meant much to me. My folks made it through invasion, capture, enslavement, fascism and did their damndest to prepare the next generation to continue the family energy and I am proud to do the same.
In many Black families, "whuppins" were used to show the seriousness (life and death at some times and many American places) of listening to your parents and not crossing certain boundaries.
Many New Afrikans are now unearthing the intergenerational trauma we were born into. I'm sometimes amazed when my son cries because he never was forced to hold it in or move through the weight of traumas that his parents and grandparents maneuvered through. He is much more comfortable conveying his sadness and disappointment to his parents than I ever was, possibly more than I currently am. LOL.
Sunny Boi sees the difference between "pink people" and "Black people" and still is 100 times better at making friends than I was at his age. Friends of all sorts of races.
My folks moved us from Kalamazoo to Detroit when I was 2 in the early 80's because "they wanted a better environment for Black children to grow up in." Detroit is in my blood and spirit and it will be interesting to see how it makes its way into Sunny Boi's make up as he grows.
Still, he loves the outdoors. My father never took us camping because "it's not fun to sleep on the ground when you've had to do it for real." My son loves animals and has taken trips throughout the (apartheid) state of Michigan, gone paddle boarding, hung out on various farms (urban and rural) and swum in rivers and lakes. The world is not a site of racialized trauma for him.
He now says he wants to make movies. I'm afraid that too much screen time is hypnotizing him but his comedic sense of timing is strong and his imaginative storytelling continues to unfold.
Dee Dee Risher writes, "Ultimately, your children will forge their own path, and it is just as likely to be different from your own as it is to be similar." This world will require a young man to love and heal Mother Earth, and to be able to work creatively with many different people. I petition the Ancestors and Great Spirits (Orisha) that I am preparing Sunny Boi not for assimilation into this fucked up society but to make his place in the next world to come. Wherever the journey takes him and his peers.
Will See is an MC, spoken word poet, and New Afrikan cultural organizer in Detroit, Michigan. He is passionate about making soundtracks of resistance that touch mind, body, and spirit.