If Not Empire, What?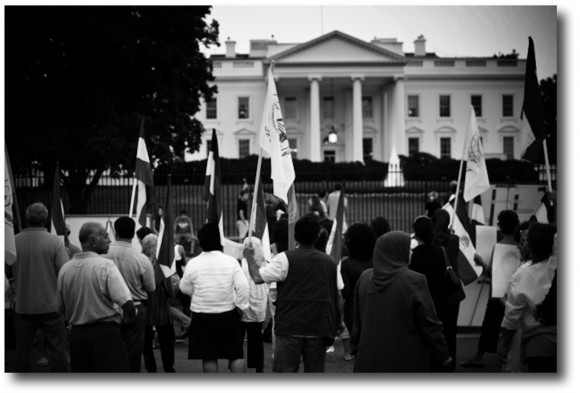 A few years ago, I began thinking about the Bible as a collection of myths and historical documents, as opposed to the literal and infallible voice of God transcribed in a paperback format. This shift in thinking took a few years, but by the end of it I felt free to start believing in evolution and stop fretting over my gay friends' souls. I had grown to see the Bible as more than just the ancient judgments and ramblings of an old man in the sky. I read it now as a radical political manifesto that condemns violence and injustice while calling for communities of love and resistance.
It's this vision of the Bible that Berry Friesen and John K. Stoner evoke in their new book, If Not Empire, What? A Survey of the Bible. Recently released in print through CreateSpace and online as a free pdf, I expect the book will serve as a go-to resource for pastors and teachers of the social gospel.
It will also be an invaluable reintroduction to the Bible for folks who have been turned off by its history as a weapon of violence and discrimination. In the authors' words, "this book is for those who have been disillusioned by the empire's way of running the world and are curious what insights the Bible may contain on how to think about, organize, and act collectively to restore a just and sustainable life on Earth."
Through a brief introduction and an overview of each book in the Old and New Testaments, Friesen and Stoner argue that the Bible's main thrust is resistance to "empire," that is, the system of political, economic, and cultural structures that keep power concentrated in the hands of a few.
With only a few pages dedicated to each book of the Bible, If Not Empire, What? doesn't pretend to be a comprehensive or in-depth commentary. Instead, it demonstrates how readers might engage with the Bible as a story of hope and resistance.
To find out more about their project, I emailed co-authors Berry Friesen and John K. Stoner with a few questions. Berry Friesen has been a high-school teacher, a lawyer, a senior manager at Mennonite Central Committee, and involved in public policy advocacy for food security, good nutrition and access to health care. John K. Stoner is a pastor, an activist, the founder of Every Church A Peace Church, and a founding member of Christian Peacemaker Teams and the KAIROS School of Spiritual Formation.
Geez: Why did you write this book, and why did you publish it under a Creative Commons license?
Berry Friesen & John K. Stoner: The West has entered a time of moral crisis in which we are being asked to jettison humane values and the rule of law in exchange for a false and unsustainable kind of security. In this regard, our era is similar to Great Britain's before WWI or Germany's before WWII. We feel great urgency about this, yet we don't have the credentials as authors to convene discussion among communities of faith, so we put it in the Creative Commons and made it free in order to make it available to people who could not or would not pay for it. Getting out the message is more important than making a profit to us – we'll see how it works!


Geez: It's not hard in retrospect to condemn the authority of some Old Testament kings or the Romans of Jesus's time. But in the wake of globalization, and recognizing that there are more subtle power structures at work today, empire's domination is not as clear-cut as it once was. How do you understand empire in the 21st century, and how does it compare to biblical times?
BF & JKS: Yes, in our time even non-coercive power is likely to have a global dimension, so global reach is not the key factor. The problem is the U.S.-led empire's stated goal of global "full spectrum dominance" of land, sea, air, space, and communication backed by blanket 24/7 satellite and digital surveillance. This is much more comprehensive than the tyrants of the past could ever imagine and over time enables today's empire to eliminate any alternative way of organizing life.
Marketed with techniques developed after a century of social and psychological research, today's empire engulfs its "citizenry" with an irresistible bouquet of sweet propaganda. Motivations of benevolence are almost universally accepted by Westerners, even as they assume a right to the natural resources of the whole world. 
Global hegemony is enforced with the most heartless technologies of war, trickling down as cluster bombs and drones since the nuclear holocausts of Hiroshima and Nagasaki. We dare not forget that today's empire possesses and has demonstrated the willingness to use violence "of biblical proportions."
All this occurs for the private benefit of the political elite, not the enrichment of the empire's nominal leader. This difference causes many to mistakenly conclude empire is no longer a threat and the Bible's anti-imperial message to be anachronistic.
Geez: Christians in the West are often the ones with the most power. To what extent do you understand Christian hegemony to be caught up in the framework of empire? How can Christian communities begin to detach from their troubling legacy?
BF & JKS: Biblical writers assume our lives are shaped by one power or another. For them, "the most power" is not an ethical category. Their focus was on whether or not a particular power fostered justice-righteousness. Then with Jesus, we see a radical fusing of means and end; the way he exercised power was consistent with the justice-righteousness he desired.
In our time, Christianity has blessed the imperial worldview when implemented by Christians. As a result, imperial aims and methods have become normative and Christian faith is understood to be mainly about personal matters – emotional health and life after death – and not the salvation of the world.
Detachment can start by getting reacquainted with the biblical emphasis on justice-righteousness and Jesus's way of pursuing it. It requires separation from empire and the formation of an alternative politics.
Geez: Does Christian discipleship involve civil disobedience and getting arrested? You write in your commentary on the Gospel of John that "for the world to be saved, the innocent must be willing to suffer publicly while trusting YHWH for what happens next" (243). What does "suffer publicly" mean for disciples today?
BF & JKS: Biblical writers often highlight the actions of the faithful in the public square. They understood life to include this constant jostling among competing powers, one of which is the justice-righteousness of YHWH. And because it sought to attract rather than to compel, it had to be visible.
So certainly civil disobedience will be required, and suffering too. YHWH's justice-righteousness is critical to Earth's survival and if we pursue it, we often will find ourselves in confrontations with structures of death. Suffering publicly means challenging racist or militaristic comments in informal conversations; writing letters to the newspaper which challenge the false narratives that justify imperial violence; and refusing to pay some portion of federal taxes that support the war machine and the whole imperial project.
But this difficult struggle must occur within a context that includes the arts, humour, good work, fellowship, and solidarity. We need to understand ourselves to be creating an alternative reality through a network of diverse communities committed to practices that enable Earth and its occupants to thrive.
Geez: It's conspicuous that the authors cited in your bibliography include 25 men but only one woman. How do you account for this inequality in a book that's about resisting oppressive power structures?
BF & JKS: We've written a popular book, not an academic one, and our method in preparing the bibliography was to list texts quoted or discussed in our book. Given this format, the question becomes why we quote only two female writers (Sylvia Kleesmat and Dorothy Day).
In part, this probably reflects deficiencies in our reading and less publication by female scholars on the intersection between biblical faith and macro-political structures. We are convinced that feminist perspectives are very important in pursuing justice-righteousness in the nonviolent way of Jesus (we describe the structural manifestation of this as "cultural"), and our book points to several women who can help us: Arundhati Roy, Naomi Klein, and Aung San Suu Kyi.
On a related note, we failed in early efforts to get major involvement from a female writer. But women read and commented on our drafts as we wrote, and we believe readers will find critique of patriarchy along with critique of empire in the book. We certainly hope for the engagement of female voices in discussion of empire in general and this book in particular.
Geez: At the end of the book you include a number of Bible passages that might be used as prayers. How do you understand prayer – or to put it differently, what was Jesus doing when he was praying? What role can or should prayer play within Christian communities of resistance?
BF & JKS: When Jesus prayed he was opening his heart and life to a larger experience of God's sustaining presence and love. He was tending his soul by acknowledging his great human inadequacy and amazing potential as one made in the image of God. Communities of resistance should encourage their members in the practice of private prayer and devote time to corporate prayer. Prayer is essential for clarifying desires and goals – it is the process of such clarification. It enables focus and persistence – in Bible language: "singleness of heart," or purity – and steadfast resistance. 
Geez: You write, "Jesus invited us to a life in which we, like his first disciples, will name and forgive sin. For such a challenging life, we will need a political community that follows his ways" (245). You also state that you understand salvation to be more communal than metaphysical. Where do you see this salvific "political community"? What are some actual, concrete, contemporary, positive examples of Christian witness?
BF & JKS: Some salvific communities are explicitly Christian, others describe their faith differently. Some are progressive, others traditional. Together, they share certain attributes: articulation of an ethic of justice-righteousness that is rooted in Earth's salvation, communal practices that build social solidarity and will sustain generations to come, Jesus's radical fusing of means and ends, resistance to empire's propaganda, and forgiveness. Wherever two or more people converse, plan, and commit acts of forgiveness, love, resistance, and empathy, this political community is present. 
For more information, visit Bible-and-empire.net
Tim Runtz is an Associate Editor and Circulation Manager at Geez. He lives in Winnipeg, Manitoba.