Geez wins awards at Canadian Church press convention 2014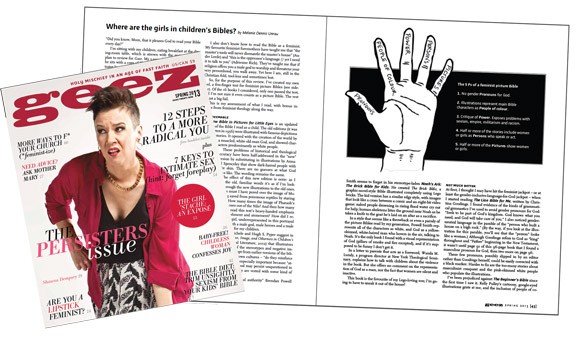 Geez magazine scored a couple awards at last night's awards ceremony at the annual banquet for the Canadian Church Press.
I'm very proud of the excellent work that our team of part-timers and volunteers can pull off four times a year.
I'm especially delighted to have our Civil Disobedience section get recognition for its ongoing excellence in news coverage of underreported stories of courage and principle. Thanks to the current editor James Wilt and before him Christopher Paetkau.
Melanie Dennis Unrau's amibtious feature article on the lack of girls represented in children's Bible won second place in its category and, more signficantly, was the runner up for the A.C. Forrest Memorial Award for social justice religious reporting.
Colin Vandenberg provided photos for our Sermons issue, which took first place in its category for photo essay. I hope we can continue to treat readers to visual explorations of the human struggle in these challenging times.
Finally, I'll mention the outstanding artwork and design on our pages. Thanks to Darryl Brown, who's been at the helm of the design since our inception in 2005, we got first for layout of our Sermons issue, second for original artwork and front cover and third for feature layout and design.
Why do I bother mentioning awards? Why do we even enter these things? For several reasons:
For morale boosting; it's fun to "win" something. For community building; these are our colleagues in independent journalism seeking to challenge commercial media and prevailing (predatory) capitalist values.
For awareness-raising; if we win an award for our coverage of civil disobedience or for our feminist documentation of the patriarchal scriptures that promotes a social gospel of liberation for those who suffer from systemic injustice.
For promo reasons; it gives us a reason to talk (i.e. brag) about ourselves and (humbly) spread the word. Maybe by doing so we can earn a few more subscriptions, to state the obvious.
But also, I hope we can bring more hope and support to those in our midst who bring their spiritual convictions to the fore of the struggle for social justice, environmental rejuvenation, animal ethics, food politics and every other good cause.
Here are some of the details of the awards (see below). With gratitutude, Aiden Enns, editor, Geez magazine.
First Place
Edition Layout & Design (magazine, circ up to 9,999), "Thirty more sermons you'd never hear in church (Geez Winter 2013)"
by Darryl Brown (designer) and Aiden Enns & Tim Runtz (editors)
First Place
Department, "Civil Disobedience" by Christopher Paetkau and James Wilt
First Place
Photo essay (magazine), "The Glass Box Project," by Colin Vandenberg
Second Place
Original artwork (magazine), "Do I really believe this? [photo illustration]," by Darryl Brown
Second Place
Front Cover (magazine, circ up to 9,999), "The rise of the unrecognized peace activist," by Darryl Brown
Second Place
Features (non-fiction) magazine, "Where are all the girls in children's Bibles?"by Melanie Dennis Unrau
Second Place
Service Journalism, "Digest of living dissenters," by Carly Ciufo
Third Place
Feature Layout & Design (magazine, circ up to 9,999), "Digest of living dissenters," by Darryl Brown
Honorable Mention
A.C. Forrest Memorial Award – "Where are all the girls in children's Bibles?" by Melanie Dennis Unrau