Computology Part 2: I will survive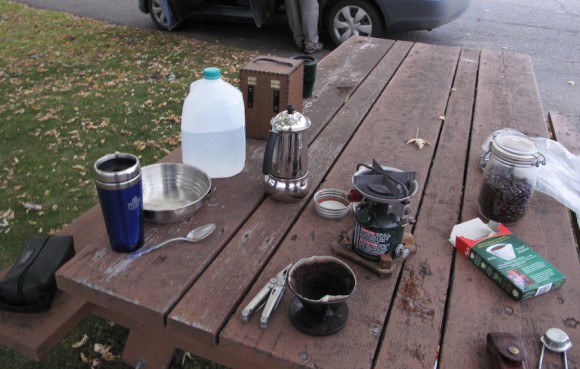 See Part 1: Computers lessen me
I accept that each of us will choose our areas of resistance against a the pressures of so many problematic patterns of behaviours. So, part of my framework of judgement is to ask, How is this technology making me lazy, impersonal, careless and stupid? And then steer away from those patterns and head in a more empowering, life-giving direction.
Patience
I use a hand-operated coffee grinder every day for my morning coffee. Depending on the roast and source of the bean, it can be quite difficult to turn the crank. It takes about 170 turns to grind enough beans for a strong single cup of coffee (made with a stove-top espresso pot). And, because I want to develop both sides of my body, I grind half with my left hand, half with the right. I usually stare out the window a the the 100-year-old basswood tree in our back yard.
Often I think about two things: How can I make this operation go faster? It takes more than ten minutes from start to finish for a cup. And then I think, Why am I in so much of a rush? My "obliging" voice, my superego, chimes in, "Yeah, you should be more patient." My "self" says in response, "I know you are a nag, but this time I agree with you. I think I'll calm down and let this time and activity be what it is." And then I turn on the radio and get further distracted. But still, I've created an occasion to listen to my inner self and move towards strengthening my resources.
Presence
The same operation each morning — grinding coffee, washing the espresso maker, adding water, packing the grounds, setting it on the stove and waiting for it to boil — calls out to me, invites me to be present. Then my mind wanders and I spill things on the counter, or worse, put the pot on the stove without adding water. I'm called back to the present moment during physical operations.
Solidarity
When I am patient and present, I have some "equipment" with which to approach others and attempt meaningful solidarity. A white, educated, home-owning, employed, predominantly heterosexual, Christian male may not always be welcomed by those who are poor, unemployed, looking for stable housing, gay or confused.
To avoid quick problem-solving, being the hero helper and over-articulator, all of which may further another's disempowering, I need to be patient and present. Backing away from computers ("backing away" is a helpful phrase used by Reverend Billy and The Church of Life After Shopping in New York), helps me be less brash, more open to others, and inclined to be in solidarity with those who are in need. This is the theory anyway.
As you can see, I have a long answer when it comes to the use of computers in making the world a better place. Obviously I believe somewhat in the redemptive capacity of the technolgy: I've poured a lot of life energy to keyboards and screens, making, promoting and selling a print magazine.
In the end however, it is the paper and the community that holds it and discusses it that inspires me. Hence I'm a reluctant computer user, a neo-luddite, or a mix of Amish and pop-culture activist. I'm AmishMash. — Aiden Enns, editor, Geez magazine